Colin Buchanan is a legend, and not only in the Australian sense of that word.
With the release of his latest country album, Calvary Road, singer-songwriter Buchanan is almost egging us on to cast a quick eye across his legendary entertainment career.
Buchanan was on Play School for ten years. For almost double that time, he has been Australia's No. 1 for Christian kids music. He's also won nine Golden Guitars, an ARIA and last year he took home APRA's Country Song of the Year for The Spirit of the Anzacs (which he co-wrote with Lee Kernaghan and Garth Porter). Oh, and he writes picture books that the little ones love.
While this Aussie legend has successfully appealed to audiences who share his faith in Jesus, and those who don't, Calvary Road could be the moment in his epic career that Buchanan brings the two together – in a different way than before.
"I didn't want it to be an 'in house' Christian record," Buchanan tells Insights. "In other words, to sing a worship song, that's clearly 'in house'." He's referring to contemporary Christian songs designed to be sung at churches or gatherings where people "want to praise God." Instead, Calvary Road is a collection of personal stories at "the wild frontier" of faith.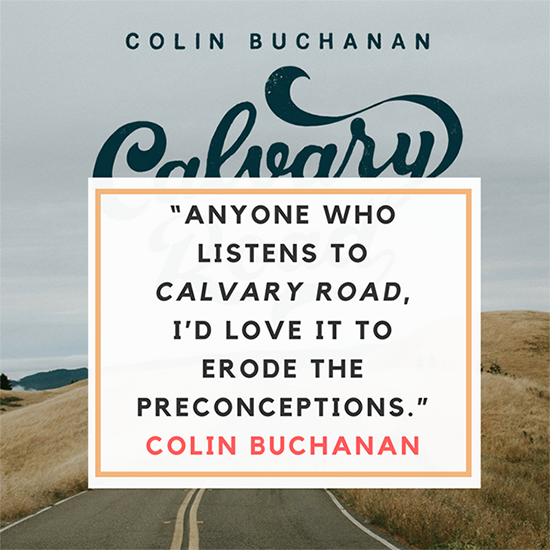 "The album has stories of imperfect people and I feel stories have a potency," reveals Buchanan, whose new material was inspired by everything from Steve Jobs to Jesus, a friend's letter to his own father's death. All of these stories communicate something about Buchanan's potent perspective on life, shaped by his Christian faith. "Anyone who listens to Calvary Road, I'd love it to erode the preconceptions" they might have about the real, gritty difference Jesus makes in our real, gritty lives.
"I think the gospels paint the picture of Jesus in the flesh. He left footprints. And that's an arresting thing for me to consider as a Christian," Buchanan explains about how such reflection upon Jesus' humanity challenged him to take a fresh look at his own approach to Christianity. "Perhaps the encrusted religion that I bury him in, I ought to let him burst out of that rubble and just be re-confronted again by the truth, the power and the potency of Jesus as God's man.
"You know, he is the model and the means of salvation."
Does all of this mean we should be keeping an ear out during Calvary Road, for worship songs that aren't worship songs? Buchanan gives us the greenlight to do just that and hopes his new album inspires others to be raw and non-judgmental when they express their faith. "I wonder whether sometimes Christians shouldn't just share the imperfect, untidy comfort they find in Christ. They could be sharing that authentic truth of the gospel percolating into their life, rather than a pre-fabbed feeling that… can just sound like they're telling people what they should do."
Ben McEachen
Visit Colin Buchanan's official site to get a copy of Calvary Road.