Phillip Ruddock was interrupted by protesters while delivering the Gordon Moyes Memorial Lecture on Monday 13 November.
Mr. Ruddock, former Attorney General and Special Envoy for Human Rights, was delivering the address at Wesley Mission to honour its long term superintendent, the late Reverend Dr. Gordon Moyes.
Around ten protesters took to the stage to interrupt the speech, condemning Mr. Ruddock for his part in setting up Australia's off shore detention for asylum seekers when he was Attorney General.
The protesters called for asylum seekers to be brought from Manus Island to Australia.
Mr Ruddock appeared unaffected by the interruption. "Australia is still a free, democratic society that…values freedom of speech," he said.
Security escorted the protesters out.
Human rights highlighted
Speaking on the subject of human rights, Ruddock highlighted his recent stint as special envoy, a role that saw him lobby on Australia's behalf for a seat on the United Nations Human Rights Council. Australia won a seat on this council in October 2017.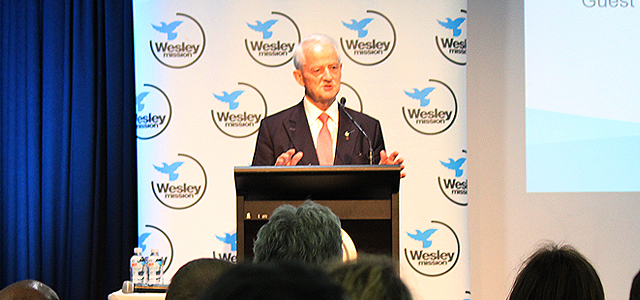 Mr Rudduck speaks at the Gordon Moyes Memorial Lecture
Mr. Ruddock paid tribute to Rev. Dr. Moyes, an old friend of his, for being an advocate for the vulnerable. "I first met him as an evangelist," he recalled.
"We owe him an extraordinary tribute."
Rev. Dr. Moyes was Wesley Mission's Superintendent from 1978 to 2005. During this time, he oversaw the agency's expansion and move into a new building in Pitt Street.
He also served in the New South Wales upper house from 2002 to 2011 and was a broadcaster in television and radio.
Jonathan Foye is Insights' editor