This is Day three of a five day Infomagical challenge undertaken by the Synod Communications Team. See Day 2: A Magical Phone.
Day 3: A Magical Brain
Adrian: Being a Communications Manager means that this task was almost impossible, but I was able to achieve this by concentrating on writing an article for an upcoming issue of Insights. Trending topics are swirling like circling crocodiles (Side note: Communications attempted the Infomagical Challenge around the weeks that the SSM postal vote was being announced – big mistake!).
We really aren't able to focus on all the information and so why do we try? I have to admit that this part of the challenge was the hardest. Avoiding a Meme was pretty easy because I avoided Facebook, but trending news, not so much. I have a habit of reading 'think pieces' on any given subject, so this was pretty hard. Information overload is tricky because I often feel like I have reached peak bandwidth for information. Day one of the challenge actually helped me because I was pretty focussed on getting the article done. But hands down, this is the most difficult part of the challenge.
Lisa: Hilarious challenge as this was the day of the announcement for the Marriage vote something dear to our hearts. I called it Marriage Vote 'Not a trending topic'.
This made me motor through my tasks at the start of the day at world record pace so I could continue to just focus on the one thing when it was announced. It meant that it was just another thing in my day, celebrate, be happy move on. It also meant I couldn't get caught in all the hoopla around my 'not a trending topic' when it just became one more thing in the day. I did complete all my tasks for the announcement, on message and on time by being very focussed. On the same day I completed a chunky piece of work that would normally have spilled over days. In my bliss bubble I had no idea the entire city I worked in was shut down until I started the commute home. I got home and felt the rising joy of yet another "infomagical day".  But to be honest I did have a bit of FOMO by the end of it.
Rana: As part of the Comms team it was impossible to avoid this topic as everyone was talking about it. I think part of the challenge is, even if you can't avoid the topic, don't let it consume your day or your thinking.  I found that after the results came out – it was quite easy to just get on with the day and not necessarily have to spend time thinking or stretching out the information.
Prior to the vote result and the months of campaigning it was complete information overload. Online, there was so much 'chatter' about the vote result and what it would mean etc etc…I did find myself consciously avoiding this topic whenever it came up on my social media feeds even before the challenge. It seems that everyone has an opinion online (whatever the trending topic is).
When the results came out – I just felt relief that it was over and it was easy to switch off the information overload.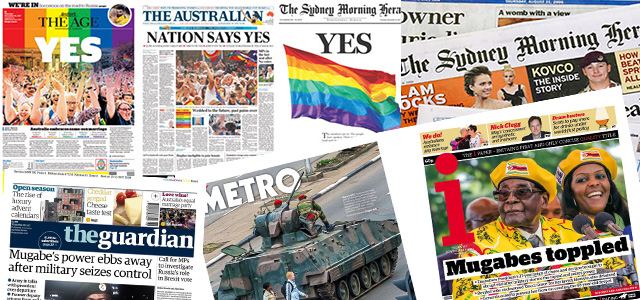 Melissa: So I mentally swapped the day challenge because no way were we going to miss all the postal survey commotion. But when I finally did cave and take on the 'no-trending topics', it was still extremely difficult. The content I write or post each day is informed by what's trending. This means looking at what everyone is talking about, so Insights can also comment in that space and open the conversation even more.
But like some news days, once one story tapers off another bursts like wildfire. Right around the time I took this challenge Zimbabwe was under military control and there was a tense and uncertain 48 hours. I still have family living there, so I wanted/needed to know every single piece of news that was coming out.
To be fair there was a lot of unconfirmed reports so I compromised and limited the articles I read and plus I was able to keep up to date with family on messenger. I kept one live update channel open that would notify me of any developments and did not read anymore extra news stories. This kept the stress levels down and the panic at bay, which is almost impossible if you're reading every trending topic. (Update: The now former Zimbabwean president Robert Mugabe was peacefully ousted).
The magical journey continues here: