Rural NSW artist and Uniting Church member Doris Golder was recognised in 2016 Queen's Birthday Honours List. This annual list spotlights a diverse range of Australians who contribute and serve across all fields, including professional endeavours, community work, Australia's Defence Force and Emergency Services.
The Uniting Church, Synod of NSW and the ACT is blessed to have so many outstanding people willing to dedicate themselves to their community.
Among the Queen's Birthday Honours List is Lockhart Uniting Church member Doris, who was awarded an Order of Australia Medal (OAM).
The 90-year-old is widely known for her rare wool art. For about 14 years, Doris has created more than 30 life-like, intricate, wool art portraits of some of Australia's most well-known subjects (including politicians, sporting identities and media personalities). Among them are Dame Joan Sutherland, Tim Fisher, Paul Hogan, Rupert Murdoch, Ita Buttrose, Greg Norman and Warren Mundine. The Fred Hollows family was one of the last wool portraits created by Doris.
Some of her portraits are displayed in Parliament House in Canberra.
Portrait of Ita Buttrose, wool art © The Doris Golder Gallery
In 1996, Doris retired to Lockhart. She had never wanted to sell her artworks for profit; instead, she generously donated her wool portrait collection to the Lockhart community in 2004.
The Moderator Rev. Myung Hwa Park met Doris on her recent visit to the Darling River region and viewed the extensive collection housed at the Doris Golder Gallery, within Green's Gunyah Museum in Lockhart. Many of Doris's subjects have visited the gallery to view the unique collection.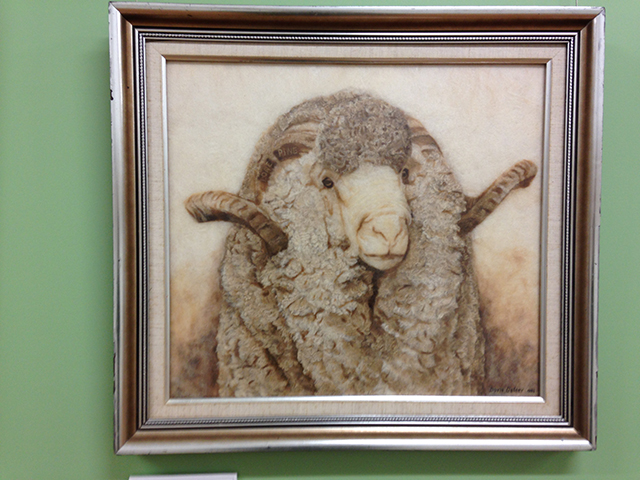 Merino sheep, wool art © The Doris Golder Gallery
Talking about her collection of wool portraits at the gallery, Doris said she was "happy they are all together like a mob of children", because she had spent so much time on them.
Self-taught, each of her artworks took up to five months to finish. Doris would create grids on the background before adding the portrait. The white wool background was then glued onto a board; each fibre was placed on the background separately and trimmed with scissors. To create eyelashes, wrinkles and moustaches, Doris would carefully roll the wool between her fingers. The entire artwork was kept in place by non- reflective Perspex, which flattened and pressed the wool, to create the finished portrait.
Doris mentions the four "Ps" — "patience, persistence, perseverance and prayer" — were required to complete the works.
While creating a portrait she ensured it looked just like the person, right down to the fine detail. "They are very hard to create, and to have wool just the right colour. The portraits are all in the natural coloured wool with no dyes. It took a lot to get their eyes right, their expressions correct and every little detail on the face.
"Every wrinkle on their face had to be their wrinkles; their eyes had to be their eyes. It took a long time," she said.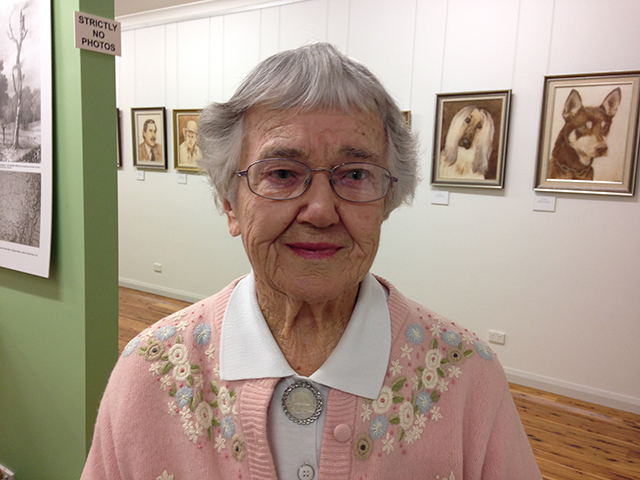 Doris Golder
The many dogs she reared over the years also feature as subjects, including a red kelpie. "I always had them as company and that has been important living on the land," she said.
Life-time friend and Lockhart Uniting Church lay preacher, Dorothy Creek, recalls how she visited Doris's home over the years. Dorothy reveals that "there would be nowhere to sit at the dining table because it would be covered in wool all sorted into piles".
The most extensive display of her work is located at the Doris Golder Gallery in the Greens Gunyah Museum in Lockhart.
While her OAM nomination was for her "service to the visual arts, particularly to wool portraiture," Doris has also been an active member of the Lockhart community.
Having grown up at Booerie Creek, she went to a small school, before high school in Albury. She has been a member of the Lockhart and District Historical Society, as well as holding several roles in the Country Women's Association, a Red Cross volunteer and Lockhart Uniting Church volunteer.
(Pictured) The Moderator, Rev. Myung Hwa Park with Doris Golder OAM and some of her artworks.
Lisa Sampson