Insights explored how we can foster faith in our homes and Churches and grow in faith together. This is Part 1 of the three part feature. 
Intergenerational faith formation. What does it mean and how does it work in practice? Put simply, it means we are all responsible for discipleship and growth in our relationships with each other as the Body of Christ and our church communities. But if it were that simple, we would have scores of thriving congregations with active family ministries. Insights spoke to a number of ministry agents across the Synod about how healthy church communities can be transformed through intergenerational faith formation and what that means for the average congregation.
There are large international research programs in the secular world devoted to intergenerational issues. It is now widely recognised that good intergenerational connections are a source of hope for healthy societies and a peaceful world in the future. The church is ideally placed to rise to this intergenerational challenge, after all God requires us as a body of Christ to be a functional "team" for whom each member has a purpose.
In a society in which extended families are geographically dispersed, childcare is outsourced, and child-free resorts and retirement villages are becoming more common, churches are one of the few natural intergenerational spaces left. And it is in these spaces we can model community even as society is in a state of flux. To be vital churches, our intergenerational relationships need to thrive, providing places for all ages to worship and experience the transformational love of God.
This theological vision may not always be reflected in church practice, and the aspiration to be intergenerational usually remains just that – a good idea that is not realised in the everyday of 'being' church together.
Emma Parr, part of the Resourcing Team at Uniting Mission and Education has been working with Chris Barnett from the Synod of Victoria and Tasmania and Mel Neumann from South Australian Synod on an intergenerational resource Engage Together. Her view is that churches are ideally placed to do intergenerational ministry well.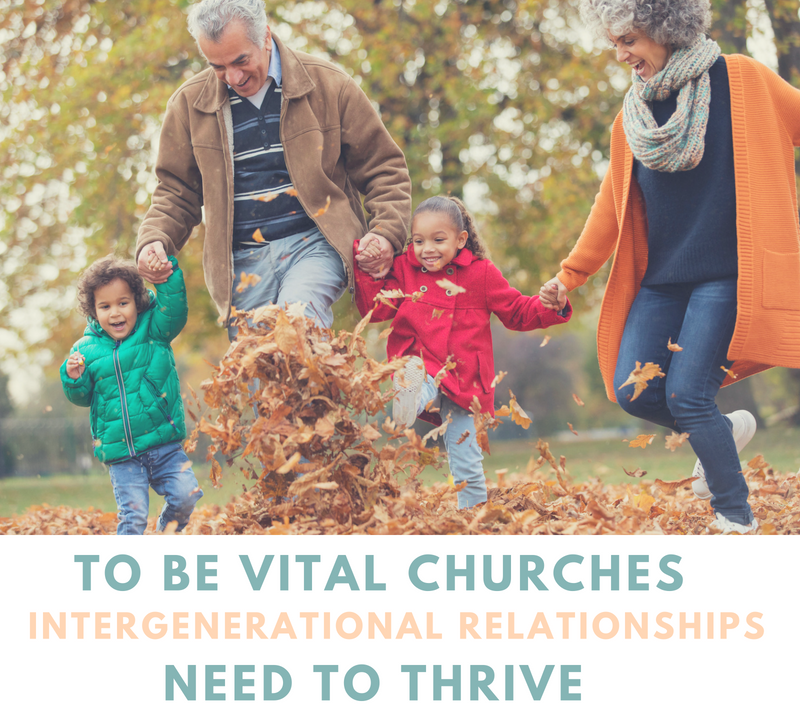 "When it comes to all the generations together, in my opinion it is the way that church should be and there are so many places in the community where people are already separated into different age groups," she explains.
"Church is where often we have the richness of the Body of Christ to have different generations present. We can and should be making the most of that by actually doing things together. There's wisdom for older people to hear from younger people and conversely there's wisdom for the young to hear from the old. It goes both ways, it's not just about bringing up young people in the faith, it's that we have wisdom to share across generations."
While some churches are not quite there yet, there is a growing number of imaginative approaches to all-age services like Messy Church where learning and worship takes place with everyone together. Godly Play, which was originally designed for children is something that is also used across age groups and sometime within Messy Church itself.
"Godly Play isn't always used intergenerationally but it's a really approachable tool for people who may not yet have the language of Christian faith to attach to these stories of significance," explains Emma.
"Godly Play is also quite widely used in the Messy Church setting because it is an approachable way to engage a group in wondering about the scriptures that happens during the celebration time in Messy Church."
At the Messy Church Conference in February there was an elective that looked at how to make the most of Godly Play. This demonstrates a growing interest in integrating the two forms of creative gospel sharing.
A typical Sunday morning for many churches involves consecutive services for different congregations with age-stratified groups running in parallel for the purposes of teaching. The sending out of children and young people at the beginning of the service and receiving them back to 'show and tell' is a widely recognisable formula. This is, however, the antithesis of good intergenerational practice.
"Sunday School is something that can be done well," explains Emma. "But if it is just about age segregation and keeping the children busy then it's not really serving the whole of the community to actually help and develop and grow children in faith. When it becomes a babysitting exercise or something that requires very low engagement for the kids that is counterproductive."
So how can churches address this, not just for the sake of children's faith journeys, but for all of us? The first step must surely be to address the issue of how much intergenerational contact we encourage in church. This needs an intentional development of intergenerational programs. And for this there are already natural connections between generations which are often ignored in churches.
Ian Robertson, Alan Walker Lecturer on Mission and Evangelism at United Theological College, refers to the natural connections between young and old that should and can exist as the "awesome, or wicked grannies effect" when older people recognise how important the mentor/grandparent relationship is in the church community in encouraging and building up faith in young people.
Wisdom, Wonder and godliness
The most obvious gain with intergenerational relationships is the wisdom that comes from perspectives other than our own. Spending time with people from other generations will expose different preferences and beliefs. Sharing experiences of faith with one another is an important cornerstone of church life, even if the way those stories might need to be told might need to adapt.
"We need to hear the spiritual experience of our elders," Ian Robertson explains. "Grandparents have had significant experience and when you ask them about that and why they are still Christians, then you get something pretty amazing and very powerful, very relevant and life oriented – and these are not necessarily religious reasons – but life-oriented reasons about why their wisdom is important."
"A lot of older people think they've got to 'do' church, but in fact what they have to do is love in Jesus' name. It's important for grandchildren that are three to 33, hearing a fresh testimony that's life-oriented rather than 'church' oriented."
This concept of sharing wisdom makes perfect sense: Older married couples can share their experiences with younger married couples; talking with elders of the church (40s through 60s) can help us see what growing into responsibility and faithfulness looks like; elders of the church sharing their faith journeys and testimonies can nurture younger people in their faith; and younger people share their sense of enthusiasm, liveliness, optimism and openness to change with elder people in the church.
Intergenerational relationships can lead us to grow together in faith. They do this first by forcing us to love more maturely. Loving someone different from us requires us to love more deliberately.
The current narrative is that the Western church is in decline, and many older veterans of the faith share grief about the fact that church is so different to what it was when they were younger, but also that their children and grandchildren are no longer going to church. And this raises another important question in enhancing intergenerational church: How open are we as a church to see change and be open to new ways of doing and being church together?
This feature continues Part 2: Exploring intergenerational faith formation