The Christmas Bowl is such a familiar part of the Uniting Church celebrations in Advent and Christmas that we almost take it for granted. But a moment's thought about the Bowl's support for people trapped in poverty, or fleeing their homes, or caught up in conflict, reminds us of what a privilege it is to be part of this network of practical care.
The theme for this year's Christmas Bowl is: When did I see you hungry? When did I see you sick? When did I see you a stranger?
We talked to Rev. Dr Brian Brown, past Moderator of the Synod of NSW and the ACT, and long-time supporter of the Christmas Bowl, about what it means to take part in this much-loved ecumenical tradition to bring hope and healing to the world at Christmas.
Great to talk with you Brian. Can you tell me how long you've been supporting the Christmas Bowl? 
I came to Australia in 1978 and since then, each church I've been involved with, as a minister and as an individual, has participated in the Christmas Bowl appeal.
So it seems like it's always been there.
It has! What does it mean to you to be continuing this tradition?  
Australia is a young country in terms of Christian faith and the Christian church. In very practical terms, it's important to uphold those good habits that bring us together and support the continuity of the Christian tradition.
In many ways, churches have been going through a period of decline and it's really important to focus on where the life is. The Christmas Bowl continues to be something that brings a healthy flow of energy through the life of the church.
Can you talk a little more about why you think it's important to work ecumenically?   
The Uniting Church is heavily committed to the ecumenical side of things and we do a lot of heavy lifting in that area. However in my experience in ministry, it's a notoriously difficult area to see progress.
Particularly at the leadership level, people are happy to argue about the finer theological points. But where I've always seen ecumenism working is at the grass roots.
Whether its local congregations coming together for carols, school scripture or for a refugee rally, when there's a cause that we can all get involved with, we're no longer separated by ideology or theology.
That's why I see the Christmas Bowl as an important movement, because it's a cause that unites people ecumenically. It's very basic Christian faith in action.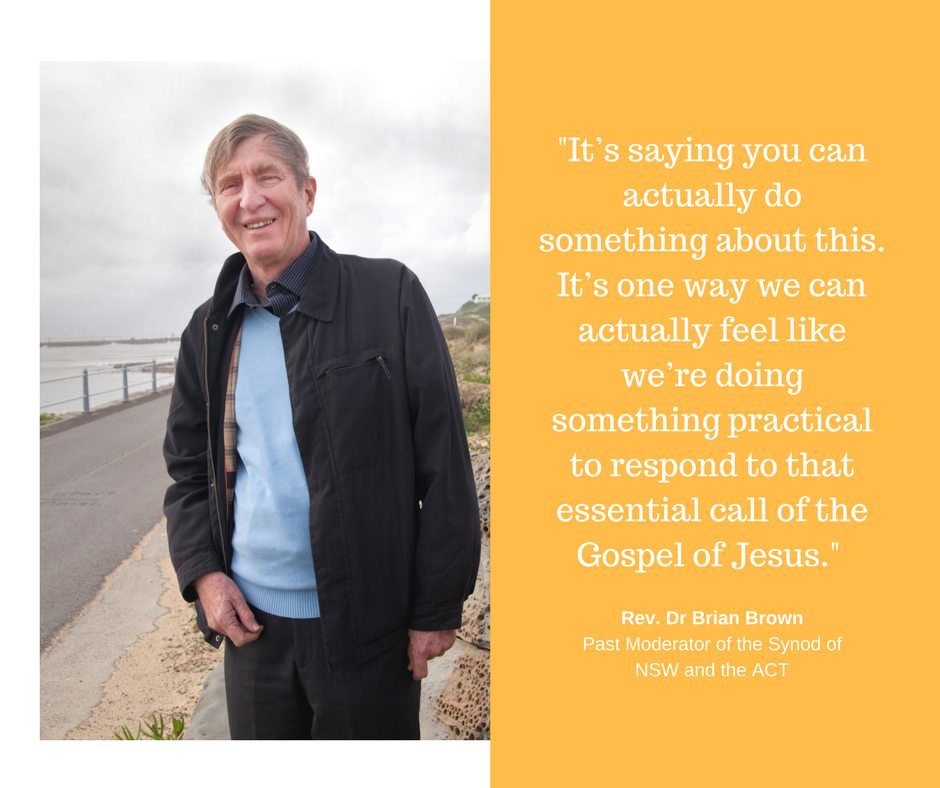 What meaning does the Christmas Bowl hold for you?
The Christmas Bowl puts the emphasis on giving at Christmas, rather than on getting. It encapsulates the true meaning and spirit of Christmas, and gives us a practical way to get involved with and express that.
Rather than thinking about what we might get at Christmas, it turns the question around to, "How can you actually make Christmas happier for somebody else?" That's the spirit and the heart of it, and where the meaning of it lies for me.
What do you see as the connection between giving and faith? 
There's a lot of emphasis in orthodox theology on 'What do we get for having faith?' If you believe in Jesus, you get eternal salvation.
As I read the Gospel, Jesus actually emphasised the opposite of that. He didn't dangle carrots in front of people, but when he asked others to follow him, he was asking them to give their whole lives.
That's where I see faith best located. The most authentic response to the call of Christ is in the giving of one's whole life, not just making a statement of faith.
The grace that comes from following this call is not a cheap grace, it's a costly grace, and part of the cost is giving yourself sacrificially to others.
There's many ways to do this, and giving in material ways to the Christmas Bowl is one way to live that out.
Jesus called us to feed the hungry, heal the sick and welcome the stranger. In what ways do you think the Christmas Bowl challenges us to follow this call?
For me, that is the heart of the Gospel. If you want to be engaged in God's kingdom, you have to look at how you got along helping the weakest and most vulnerable. It's what Jesus called us to do.
The Christmas Bowl puts specific areas of need in front of us. It's saying you can actually do something about this. It's one way we can actually feel like we're doing something practical to respond to that essential call of the Gospel of Jesus.
And part of the reason why it's such a significant and effective way of helping others is there is strength in numbers. When you give to the Christmas Bowl, you know that you're doing it with thousands of others, and quite a lot of money will go toward the programs.
It's also a great awareness raising project. Christmas Bowl invites us in and reminds us in a positive way to respond to that call.
What role do churches and church members have in supporting refugees and those affected by conflict and disaster today? 
The Uniting Church has the philosophy and the theology that underpins social action. Social action is a spiritual activity, and spirituality must flow into social action.
For me, it's a case of holding together the pastoral and prophetic roles that the church is called to.  Part of it is about providing practical care, giving money toward things that will help people with food, education and health benefits.
We also need to address the factors that cause people to be in those situations in the first place; to be involved in activities that are working to change the systems that bring about refugees, and those that fail to care for people that come knocking on our door for help.
Specifically I think at the moment that relates to Australia's offshore detention regime.  I am proud of the Uniting Church's stand on what's happening on Manus Island and Nauru, but in some ways we could be more vocal than we currently are.
Do you have a message to share with others this Christmas?
Most people are committed to the thought that Christmas is a time for families, and make a big effort to be with family at Christmas. In terms of the challenge, we need to try and broaden that understanding of family.
We need to embrace people for whom Christmas won't be a celebration, because their physical, emotional and spiritual needs are so unmet. The Christmas message is such a critical one to them. So I ask, "Can we be a bigger family? Can we embrace and give to others who would otherwise have been excluded?"
 Jess Xavier
 A generous Christmas
The Christmas Bowl is the Christmas appeal of Act for Peace, the international aid agency of the National Council of Churches in Australia. It began on Christmas Day in 1949 when the Rev. Frank Byatt of Victoria placed an empty bowl on the dinner table and asked his guests to give a gift to bring relief and hope to refugees who had fled the horrors of World War II. 
Since then it has grown to become a much loved ecumenical tradition, each year uniting thousands of churches, across denominational boundaries, to act together in response to Christ's call to feed the hungry, heal the sick, and welcome the stranger. Last year, churches raised an incredible $2.1 million through the Christmas Bowl. Uniting Church members across the country generously contributed over $990,000 to provide food, shelter, medicine and healthcare to some of the world's most vulnerable people. 
"Truly I tell you, just as you did it to one of the least of these who are members of my family, you did it to me."  Matthew 25:40
You can help to bring hope and healing to the world this Christmas by giving to the Christmas Bowl today: www.actforpeace.org.au/christmasbowl.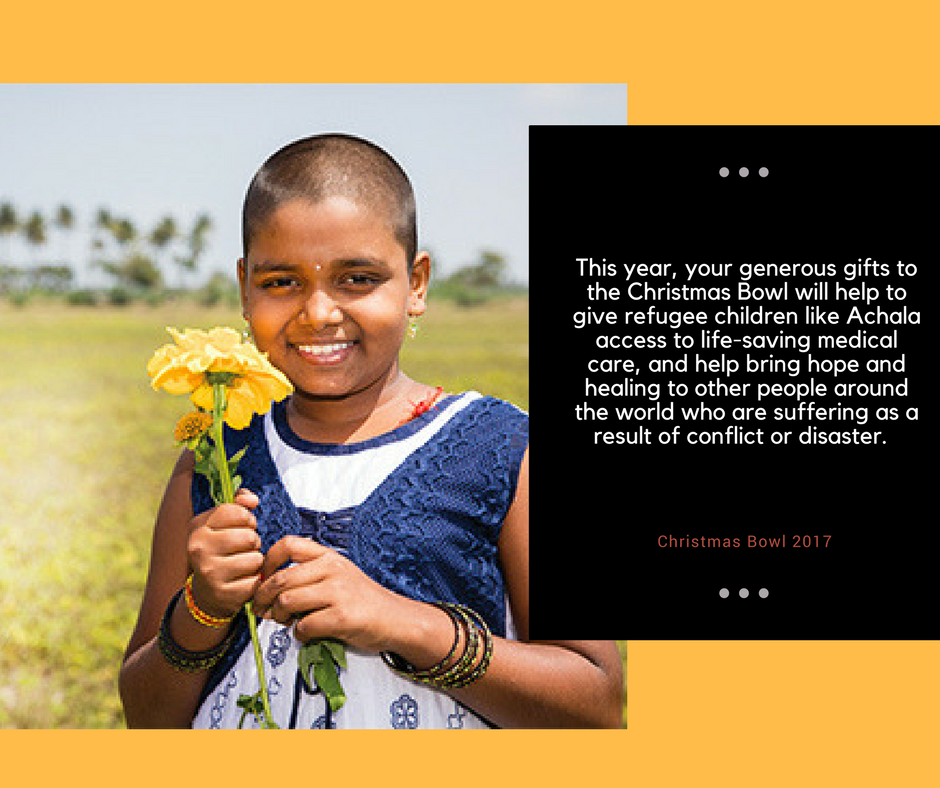 Photo Credit: Richard Wainwright/Act for Peace