It's a tantalising idea – colonising earth with the life of heaven. God's will on earth, God's kingdom come… they're familiar words from a familiar prayer. Yet too often when we look around this planet what we see and hear are the cries of children, the tweets of madmen and the suffering of millions. In a world of Trump and Brexit, royal commissions and celebrity scandal, the life of heaven looks like a pipedream.
Yet every now and then we see glimpses of the resurrection life. We see it wherever death is losing its foothold and people are pushing back against hunger, injustice and pain. We see it wherever people join hands against the odds and choose to walk together, learning from each other and bearing each other's burdens.
We see more than a glimpse of it in the image we've chosen for this year's UnitingWorld Lenten material. It's a photograph of contrasts: a man, a woman; light skin, dark skin; linen and grass skirt. The differences might be strikingly obvious, but so are the similarities: the light in the eyes, the warmth in the smiles, and the open-ness of the faces. There's a genuine solidarity about those joined hands, and about the shoulder to shoulder embrace.
For us, it's an image that speaks volumes. As God's people in a world divided, this is who we're called to be: bold against the odds, united by something bigger than ourselves. For all our differences and contradictions, we go further together than we ever will apart.
Bear with me while I tell you the story about one of Papua New Guinea's most remote islands. Here Alexandra Bingham (pictured above) spent five days documenting a partnership between the people of Lelehudi, the United Church of Papua New Guinea and the people of the Uniting Church in Australia, facilitated by UnitingWorld. Its purpose is to bring clean water and sanitation to men, women and children in a country where 60% of the people don't have access to safe water.
But it's far more than an aid and development project. It's wrought by people who take seriously the call to God's will as they carve out God's kingdom. In a context where death could so easily reign, life forges ahead.
"When I think of these communities, where people work incredibly hard to put their kids through school or to collect water each day, I see struggle, but I don't feel pity," Alexandra says. "I often feel admiration. Their faith links them together and as a result they're often more resilient than we are in the west. They have a lot to teach us."
Justin, pictured, is a father of three and leader of the church in the community. His experience is typical of so many in the Pacific. He works through the heat of the day in community gardens alongside both men and women, and gathers with them at night to eat, talk and pray. There is time in Lelehudi – time for people, time for strangers, and time for wonder. Justin, says Alexandra, speaks constantly of God's blessing to his people – of God's hand in the rain, in the gift of the water project, of these brothers and sisters from Australia.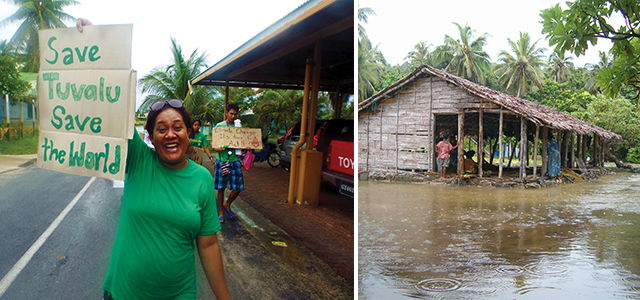 "Faith is part of everything," Alexandra observes.
"People pray constantly, God's presence and providence is everywhere. Lelehudi was one of the most close-knit communities I've ever visited.
"And change has come to this place because people of faith have taken ownership of a life-giving project and are determined to look after one another."
Pacific-wide, 98% of people identify as Christian. The church is a powerful agent of change, and in Papua New Guinea where the Australian Government directly funds churches to carry out peace work, education and health projects, it's the most trusted institution in the country. It's difficult to imagine from our lonely pews in Australia, where a recent study revealed us to be among the most sceptical in the world when it came to believing that religion is a source of good. But throughout the Pacific, there are examples of faith with enough muscle to challenge injustice and bring about lasting change for the better.
Before you pack your bags and head for a tropical island, there's more to the story.
Just before this image was taken, Justin had spent time showing Alexandra coconut trees dying because salt water from rising seas and king tides is poisoning their roots. This wasn't a problem even ten or fifteen years ago. He worries for the life of his community as it's becoming increasingly difficult for families to feed themselves. Even a short drought in these parts would cause major problems for his community – death and hunger have already stalked the Highlands once this year. There is no running water or electricity in his community. Lelehudi's single university student has been gifted a laptop which he charges in Alatou, an hour and a half away, before returning to his home on weekends to study. Whole families crowd around it to watch DVDs on Saturday nights before returning to sleep on woven mats in hand-built wooden huts.
While women are active leaders and well respected in this community, rates of violence toward women and children in many parts of the Pacific are among the highest in the world. The church has been complicit in teaching that has silenced women over many decades.
This community is far from unique. Right on our doorstep, climate change is leaving entire nations – think Tuvalu, Kiribati, Fiji – with grave decisions to make about their futures. How will people make a living or feed their families if the ground water is continually contaminated by salt? Where should villages, or indeed whole populations, be moved to avoid flooding and natural disaster? More than three in five women in our Pacific neighbourhood experience domestic and they have less representation in Parliament than even among the Gulf States. Poverty continues to threaten the most vulnerable, from Vanuatu to Papua.
The Pacific is a place of contrast and we all relate to that. Just as we find throughout the world, the Pacific knows both life and death, hollowing sorrow and ringing joy. Because of that it needs, like the rest of us, the hope of a God big enough to deal with all that life dishes up. It needs us to stand alongside fellow ambassadors of the life of heaven that are willing to learn, share the load, and walk together. As we do, we understand what it actually means to be Christ's body; strong feet perhaps, an arm that is wounded; a heart that beats strong. Our global view enlivens and enriches us, allowing us to see the bigger picture of God's vision and the spirit at work in the world.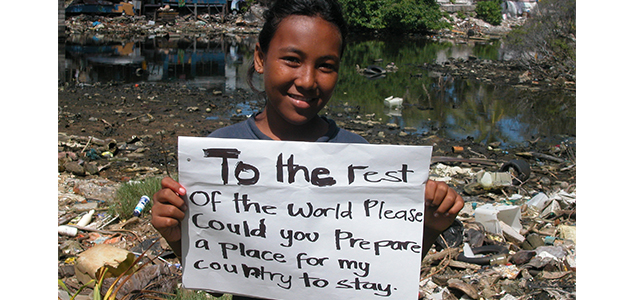 This Lent, UnitingWorld invites you to explore our theme "Faith in Action: Together We Change The World." 2018's stories take us into the heart of our own Pacific; to Fiji, where the local church is working with parents to equip children for school. Then to Tuvalu where local people are equipped to deal with the challenges of a changing climate. And finally, Pacific-wide where women and men are being biblically trained to see God's plan for fullness of life within relationships, free of violence.
Get involved, sign up and be part of Lent Event
Lent Event is a practical journey, meeting global brothers and sisters for whom resources are scarce but faith burns bright. We encourage congregations to learn, give and act: to set aside time in our worship services to watch videos, meet our partners face to face and pray for them. We encourage generous and sacrificial giving. And we encourage action – giving up something from our daily lives that we might find it hard to live without, and donating what we save to the projects we're supporting together in the Pacific.
This is how, together, we discover where resurrection life is thriving around the world. Together, our faith is strengthened. The life of heaven comes to earth.
Cath Taylor, UnitingWorld.