Proving that seeking success doesn't have to mean relinquishing what you believe, Black Panther actor Chadwick Boseman is relieved to have carved a path that has afforded him no small amount of both creative and spiritual satisfaction, as Insights discovers.
Every actor dreams of the role that will turn them into a star who gleans the respect and admiration of his peers, but actor Chadwick Boseman took things one step further, revealing he actually prayed for the part of King T'Challa/Black Panther in Marvel's latest smash hit film. "It was strange because the movie had been on my mind for a long time, and people had said to me that they thought I would be great for the role. But even so, you don't actually expect the call…" says the handsome 40-year-old. "That shows that when you pray for something, it can actually happen. And that is powerful!"
Even the modest actor couldn't predict what an enormous success Black Panther would become. And with international box-office earnings of $1 billion and counting, Boseman has not only attained A-list status, but alongside it his own personal film franchise, with recurring roles in the Avengers films, the next of which will be Avengers: Infinity War.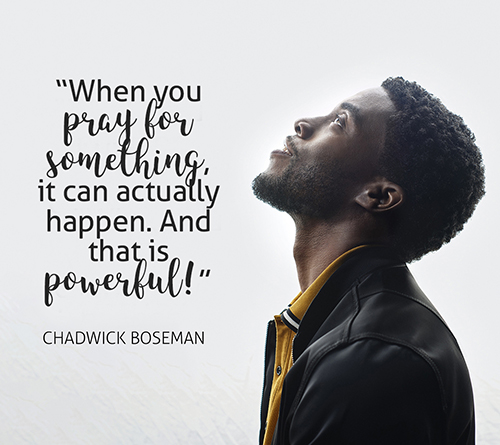 It's a stunning triumph for Boseman, a rare talent who previously played legendary real-life black figures such as James Brown in Get On Up, Jackie Robinson in 42, and US Supreme Court Justice Thurgood Marshall in the eponymous biographical legal drama. He's also aware that Black Panther is not only a role model and source of pride for those of faith, but also represents a watershed moment in Hollywood history by proving that a film driven by a black superhero and largely African-American cast can attract mass audiences across the globe.
"It's an inspiration to be able to play someone on the screen in whom you can recognise yourself – even in a superhero movie," Boseman says. "It's also important and enlightening for non-black viewers who can identify with heroes who don't conform to the usual stereotypes, and see black people do extraordinary things."
Humble beginnings
Despite his humility, Boseman is certainly an extraordinary man who has come from humble beginnings to take control of his career with passion, courage and honourable intentions. Hailing from Anderson, South Carolina, Boseman was raised by his mother, Carolyn, a nurse, and his deeply religious father, Leroy, who worked in a cotton factory. Initially he had little intention of becoming an actor, showing an early flair for drawing and design, and eventually earning a bachelor's degree in theatre at Howard University, Washington DC.
He moved on to the Digital Film Academy in New York, but a twist of fate – and subsequent change in career direction – came while the prodigious youngster was at high school. "I started writing after one of my friends who played on my basketball team was shot and killed. So my response to that was to write a play about my community," he says thoughtfully. "That started me on the path to becoming a writer and director… to want to express myself what I saw around me rather than be told what to think and feel. And it was only later that I went into acting because I realised that if you want to be a director you need to understand the work and the process of the actors you're trying to direct."
Boseman's evident worldliness and desire for conscientious change is echoed by his childhood pastor, Samuel Neely, who recalls fondly his memories of a boy who was focused and driven, but also an inspirational force. "He did a lot of positive things within the church and within the community… from singing in the choir, to working with the youth group, he always was doing something, always helping out, always serving. That was his personality," Neely told Fox Carolina, adding: "I've just seen him mature, and blossom into a man. And he's doing an excellent job."
On the set of Black Panther, Boseman found another church, of sorts; a group of actors whom for many, God played an important role in nurturing, guiding and supporting them throughout their careers. Sope Aluko, who plays Shaman in the film, is an outspoken Christian, who often posts uplifting quotes on her social media, while Letitia Wright, who stars as T'Challa's nerdy younger sister, Shuri, even took a break from her career to allow time and space to acquaint herself properly with higher powers. The British actress believes acting to be the ministry within which she spreads His word and was often found praying on set.
"There was a lovely sense of faith, understanding and energy when shooting this film," says Boseman. "It was an extraordinary feeling to have so many people sharing common values and beliefs, and I'm not sure if we'll ever get that again in this sort of setting.
"It's a time I'll always cherish, and I think our collective energy really turned this into something completely special."
Talking openly about faith
At a time when Hollywood continues to struggle with a deep seam of moral bankruptcy, the emergence of such talented actors, all of whom are able to speak openly and candidly about their faith, is nothing but deeply refreshing. Role models are vital when it comes to galvanising the disenfranchised youth to aim higher for themselves, and while Boseman is not entirely comfortable yet with his own status as a cultural hero, he has much to say about those who inspired him when he was growing up. That said, Marvel fans may be surprised to learn that the Black panther wasn't his favourite childhood character…
"I was more of a Batman and Spider-Man fan," he says with a laugh. "I used to play in the trees behind my grandma's house and pretend to be Spider-Man. But my real hero growing up was Muhammad Ali. He still is. I worship Ali and I like wearing T-shirts with his face on them."
Among Boseman's other heroes are his parents, iconic global leaders such as Nelson Mandela, Martin Luther King and Barack Obama, plus fellow actors Robert De Niro, Dustin Hoffman, Meryl Streep and Denzel Washington. Having played several important figures in black history, Boseman is clearly drawn to characters who possess real mettle and unrelenting courage. And King T'Challa's fictional status has not prevented the philosophical star from musing over the important lessons gleaned from playing such a noble leader.
"It makes you think about your sense of responsibility; what you contribute to the world. In his case, he's faced with so many difficult decisions. There's the key line in the film, 'It's hard for a good man to be king.' It's complicated to decide whether it's right to do bad things for the sake of preserving justice and peace, or whether anyone has the right to decide who lives or dies," says Boseman.
He adds: "Playing him, sometimes I felt like the Godfather, but that's an altogether different project!"
Black Panther is out now on DVD, Blu-Ray and Digital, Avengers: Infinity War is in cinemas
Karen Anne Overton