Having produced the highest grossing film in Australia with the BAFTA and ACCTA Award winning and Academy Award nominated Lion, his latest film — Mary Magdalene — seems like an interesting choice for director Garth Davis. But Davis admitted to Insights ahead of the films' 22 March release that he connected with the story, as it offered a unique opportunity to celebrate a woman who courageously and selflessly followed Jesus. In the lead up to Easter, it is important to find our place in the story of Jesus, and Mary Magdalene offers a different perspective on the passion of Christ.
The film is now available on DVD/ Blu-Ray and Digital.
What prompted you to choose Mary Magdalene as the follow up to Lion?
It's all my producers fault (laughs). I was initially shocked that it was a religious film. Then when I read the script I was so taken by it and it made a lot of sense to me and I am quite a spiritual person as you can probably tell from Lion as well. It was something I really wanted to go deeper into, so there was definitely a connection to the material.
It presents a very different view of Jesus life and the story itself. Is that what drew you to the material?
I must say that when I read this [script] and saw where it was going, it made total sense to me, where with other biblical movies I feel like I am being told a story. I don't really connect to [other films about Jesus] as much as I connected to this. So I was excited that this film was going to be more relatable. And to celebrate that God is within us is such a fantastic message. I love how Jesus in this film battles between the flesh and the spirit, and we can see his human side. I think that's what is very exciting about this [version of] Jesus.
We have never really seen the story told from a woman's experience …
Totally.
Scenes from the film show Mary and her sisters repairing nets while they look on at what the men are doing, it feels like an authentic look at women's roles during this time.
I must say it's still not that different today is it? Men are free to explore their spirituality and religion, where for women of the time it was much more difficult. That's one of the strong themes of the movie. For Mary to have left her home and followed her spiritual calling and pursuit of God would have taken enormous courage. That's why she needs to be acknowledged and celebrated, because she has to give away so much more for her connection to God. The fact that she has been portrayed in all these sexualised lights I think is really sad.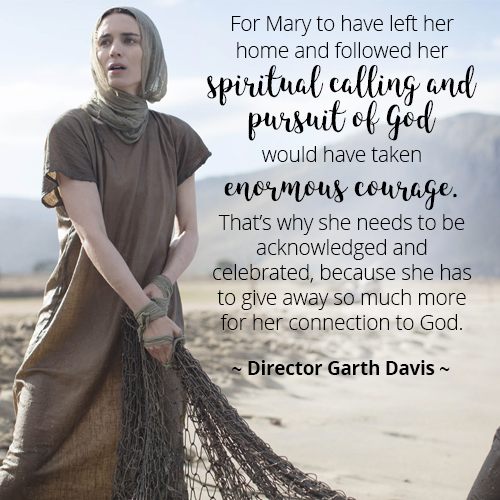 Had the two writers Helen Edmundson and Philippa Goslett written material like this for the screen before?
I wasn't involved with Helen Edmundson much, I was mainly working with Philippa Goslett and she has written other material for other films. The inspiration was the Gospel of Mark and the Gospel of Mary (an apocryphal book not technically classed as a gospel by scholastic consensus) – they were the two main sources that the film drew from.
We also had a lot of researchers and academic and religious advisors. We had a lot of feedback through these people, both through writing the script and also during the making of the film. Whilst everyone had a strong opinion from their points of view and often there was a lot of arguing, there was definitely a common consensus that Mary's story needed and deserved to be told and she needed to be acknowledged as an apostle. So that was one thing that they all agreed on [laughs], which is good.
The film screened in November 2017 to clergy, academics and other religious media. What feedback did you get because I understand 20 minutes has been cut from the final film?
Often those screenings test the audiences' emotional capacity and endurance. Sometimes you can ask too much of an audience, so I think it is really just about fine-tuning. So nothing was removed from the film, it was probably more a trimming and a rhythm thing. Cutting the material made Mary more humanistic and more alive at times, which is a normal process.
The feedback from those screenings have been amazing. A lot of the first century academics view it as the most accurate Biblical film they have seen, so you will probably start to read and hear that over time as the film is released. A lot of people felt that the domesticity and the world and the way the culture and the communities are displayed is very accurate, so they find it an invigorating film in that way.
Although not Biblically accurate, is it fair to say it might be more historically accurate than some films on the subject?
There was a lot of respect given the historical aspects of it. Of course you could draw on many different sources and they would all be very different. From my point of view, the most interesting aspects of [the story] was it is an exploration of what it means to be a human being and to remind people that God is in us. For me it's a very strong argument to celebrate and uphold unconditional love and I know it is hard for people to actively embrace unconditional love, but it really is the path to God, or to spiritual enlightenment, or to a better world. So that's what I really loved about the film and wanted to make sure it came through.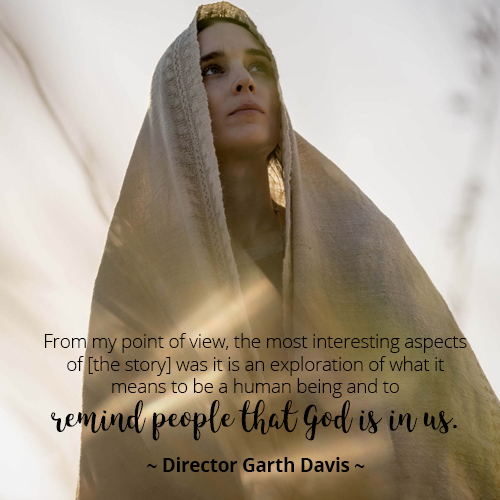 Given a push for gender and racial equality in films, in particular Frances McDormand pushing for "inclusion riders" in actors contracts at the Oscars (on 4 March) and the growing #MeToo and #TimesUp movements, do you think this is the perfect time to release a film about Jesus told from a woman's point of view?
I hope so. When we started the movie all these movements hadn't started, so we felt like we were slipping into the zeitgeist. It felt like it was the right time to tell this story and that it would be embraced. But look, at the end of the day, I would just hope and want as many people as possible to see Mary's story. That's really my job and my hope. I really hope the story gets out there. And it deserves to be told, I think that it's outrageous that it hasn't been.
Are you pleased with the finished film?
I think it is such a beautiful and unique film, and it really honours the message that needs to get across, so I love the film. I do realise that there are people who will struggle with it because it doesn't fall into the tropes of previous biblical films or it is asking the audience to find their own spirituality. For a lot of people it will be a welcome story.
What was it like working with Rooney Mara (who portrays Mary) and Joaquin Phoenix (who portrays Jesus)?
Well my bucket list has been checked off (laughs). The actors in this film are the greatest actors alive. What can I say, it was an extraordinary experience working with them. They are great teachers as well as great friends and they give so much of themselves to the roles. There was no dialling it in here. The performers you see in this film have a deep relationship to their characters and to bringing about the deep spirituality evident in the story.
Joaquin Phoenix portrayal of Jesus is very different, did you work with him on this?
He did a lot of in-depth research and he always had a very emotional and intelligent connection to his choices. Even in the healing scene, he talked a lot about the fact that people who had leprosy were regarded as people with demons. So to imagine a man who would embrace those people openly and with unconditional love would have been radical in that time. So in the healing scenes there is something deeply beautiful going on in those scenes. Some of the scenes are also very contemporary, these are the issues we are facing today. Homelessness and people who are shoved into the shadows of the suburbs, they're the ones that need our love and our help. Jesus shows us that and I think Mary shows us that sometimes it's about meeting people where they are at.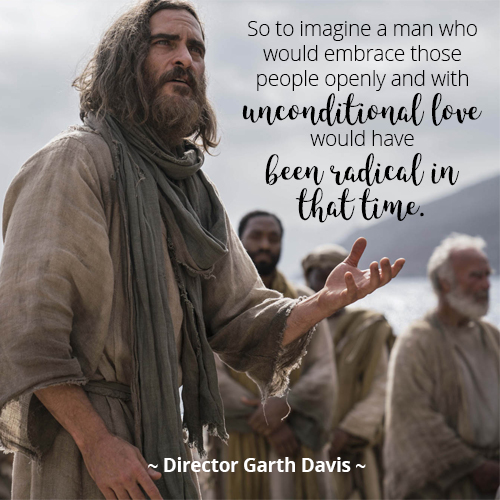 A scene in the film where Mary and Peter pass through a village is particularly harrowing, how do the actors prepare themselves for scenes like this?
The actors and people I work with have a very strong connection to this subject matter so it didn't take a lot of work we all just understood what we were doing. You have these kind of stories on the front page from Syria every day, that little kid that we see suffering while Peter is understanding mercy and the devastation that's around him, we see in our papers everyday. That scene is an incredible contemporary mirror. We always poilticise and complicate situations, but at the end of the day there is a child that is injured who needs our help.
One of the interesting aspects of the film is that the story is told through the characters, through their experience.
I wanted the audience to be spiritually moved, and to do that they have to experience everything that Mary is experiencing rather than being told how to feel or to be taught the messages of Jesus and God. That's what makes this film different – God is in us – so I'm going to take you in to the characters, help you see the story through their eyes. You have to learn the lessons through the characters and through your own feelings – so I had to make [the film] experiential in nature.
What would you like people to take away from the film?
I hope the film reminds people of the beauty and power of their own humanity, and that they do have the power to improve their own lives and the lives of others if they embrace that. Also I hope that they embrace unconditional love in their own lives as well.
Mary Magdalene is on DVD/ Blu-Ray and Digital from 15 August.
Adrian Drayton