Golden Globe winner and two time Academy Award nominee, Jessica Chastain, is in Sydney promoting her latest film Molly's Game. On Tuesday night (30 January ahead of the films' release on 1 February) she was part of a live Q&A at an advance screening of the film at George Street Events Cinema.
In the Q&A session Jessica touched on playing strong female characters, Aaron Sorkin's (Moneyball, The Social Network) masterful writing and bending stereotypes of what it means to be female.
"In the characters I play I like to show characters that have flaws and are complicated and fall down but get back up," said Jessica whose acting credits include Zero Dark Thirty and The Help.
"Sometimes we have the fear of failure, so it kind of creates this inaction in us.
"I find if we let that fear of failure, that fear of falling down control our actions then we don't grow.
"We learn so much when we fall down so it doesn't matter how many times we fall down, what matters is that you get back up. That is absolutely Molly's inspiring trait [in the film]."
Based on the true story Molly's Game follows how Molly Bloom, who went from a professional skier to hosting the most exclusive poker games that attracted Hollywood's elite, sporting greats, wall street and unbeknownst to her, the Russian mob. This quickly made her an FBI target.
Grateful that the real Molly entrusted her with her story, Jessica not only spent time with Molly but also the players in her poker game.
Before the film, all Jessica knew about poker was what her mum taught her years ago playing with Halloween candy.
"It took me a few years to realise it was her way of skimming the pot, so we wouldn't be running through the house on these crazy sugar rushes.
"So very early on I learned that it was not a game I would win," explained Jessica.
Luckily, Molly Bloom didn't actually play a hand of poker (she just ran the games) so Chastain didn't have to study the game or have a hand at playing. There were however professional poker players who were extras in the film, some of the actors, including Michael Cera (Superbad) were able to play a few games between scenes.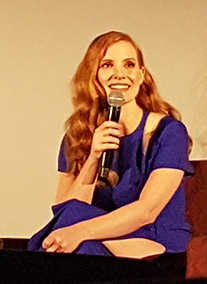 Working with Aaron Sorkin
Molly's Game is Aaron Sorkin's directorial debut. Known for his razor sharp scripts, Sorkin transitioned into directing seemingly with ease and delivers a that is film clinical in its formula while honouring the story of Molly and what she managed to achieve.
There was a risk of losing the audience in the complex story, but the narration throughout and the scene sequences/transitions kept you happily riding the films trajectory. Every word seems so carefully considered that the script becomes artwork to admire for days on end. Idris Elba — as Molly's impassioned straight-shooting lawyer — together with Jessica produce some tense moments that were given much needed reprieve by a few doses of humour. Though not so obtuse that it deters from the profoundness of each moment. That's the beauty of Sorkin at work with class actors.
"It was a great joy for me to work with him [Sorkin]."
"I am very inspired by well-written female characters. I find every woman that I meet is a strong woman, but in the past I feel like film hasn't really allowed their characters to be that," said Jessica on how Molly's portrayal in the script and direction onscreen is reflective of the change in filmmaking to show women in a different light.
Jessica recalled a scene in the film that is one of the greatest she has had the privilege to be a part of and it happened to be with Kevin Costner who plays her father in the film.
"I loved that scene so much because usually in films, if you are playing a long scene it's like three pages long, you know. And in Aaron Sorkin's scene it's ten pages long.
"The characters end in a different place than they began. They go through all these transitions and discoveries that usually you find only in theatre [productions]… it allows you to be with the actors, the characters."
"I pulled him aside and before we went to shoot I said, 'This is probably not a good thing for me to say, because I am very superstitious but this is the greatest scene I have ever had the opportunity to act on film.'"
"I'm not saying it was my performance, but the way it was written was so beautiful. It was such an honour for me to be on that set with Aaron and Kevin."
Jessica Chastain last night at Sydney Q&A session for Molly's Game
Redefining what it means to be female
Playing characters that defy stereotypes is nothing new for Jessica, who has already graced our screens with memorable performances in Miss Sloane, A Violent Year and Zero Dark Thirty. Often these roles have brought on criticism as they don't show personal relationships onscreen.
"I often get questions like, 'But why does a successful woman have to be incomplete why can't she have a family or a boyfriend or a husband?' Even with Molly's Game I got that question a couple of times at a Q&A.
"And Aaron Sorkin said it so perfectly, because he is surprised by the stereotypes that are put forward for female characters and he responded with 'No one has ever asked me that about Brad Pitt in Moneyball.'
"So why are woman only complete when they are part of a union?
"Being a woman is not just one stereotype, there are many different facets to what is female. We are living in a time when gender lines are being blurred and I think that's really exciting.
"Men can be vulnerable and sensitive, loving, kind, compassionate, strong, ambitious and powerful and so can women."
Speaking out about this issue in the industry has been somewhat of a struggle for the self-proclaimed shy-by-nature actress, but that hasn't stopped her from taking on political and social issues.
"I have always realised in any kind of broken system everyone suffers.
"I'm in this industry because I am so interested in people who are different from me, who look different from me, who sound different from me, who have different experiences and backgrounds from mine.
"Through acting I get to know and I get to bridge that gap. And if someone is suffering then in some way I'm suffering as well. That makes it a lot easier to speak out. I don't feel like I'm doing so to create any negativity, I try to lead with love, hope, passion and empathy.
"I think when you speak from that place and when you listen to others, it makes it much easier to have a conversation."
As for her career, it looks like there is no slowing down. And to think it all began in Australia, well sort of.
Jessica was in Australia 12 years ago visiting friends in Sydney when she got a call from her agent saying that Al Pacino wanted her to audition for his play.
"In some sense the beginning of my career happened when I was visiting friends in Sydney. So it is such a wonderful memory for me."
We'll happily take the credit.
Molly's Game is in cinemas from 1st February starring Jessica Chastain, Idris Elba, and Kevin Costner.
Melissa Stewart