"What does the Lord require of you but to do justice,
and to love kindness, and to walk humbly with your God?"
Micah 6:8b
Everyone dreads hearing that word "Stewardship". The dots are automatically joined that it is all about money, whilst this may be how it is traditionally viewed we need to rethink it as part of a bigger picture. How would we in the church respond if rather than thinking it was about keeping the church running it was about a vision of the future and walking humbly with God?
In civil society the act of stewardship is viewed as;
Actively preparing for an organization's future vitality and
Stewardship focuses on promoting well-being for each person within an organization.
Each leader is a steward of the vision entrusted to them.
How does this all connect with churches in the 21st century and stewardship? Well as God's gathered people in this time and place we are to be considering the future vitality of the church just as those who went before us did. The church exists because of a vision to be a vibrant church that is a lighthouse to the community.
As a church it is true that part of our stewardship does focus on the well being of each person who worships her and attends one of the many groups or activities of the church. This element of stewardship is pastoral care.
We also have a vision that has been entrusted to each one of us as disciples of Jesus not just to the leaders, this is extending the love, joy and peace of God to all in our community as we walk humbly with God. As people of faith we have been entrusted with hope that shines light into the dark corners of the world and offers a brighter future transformed by God's love.
Thinking for a moment about one of the most successful enterprises of the the 20th century the Walt Disney Company. It all began with Walt having a vision where peoples dreams might come true. He took this vision and created something that attracted people.
Today the stewards of the Walt Disney vision have five essential components;
Innovation
A high standard of excellence
A commitment to positive, inclusive ideas about family, which provide enjoyment for all ages.
Continuing a tradition of timeless storytelling that delights and inspires, and finally,
Honour and respect of cultural diversity.
I believe that the church has a vision that is more than dreams, it is a vision of bring God's love alive for people – making it real and tangible. We do this through our worship, times of fellowship and outreach to people on  the margins of our  community. Considering the five essential components above they are also essential for the church today to continue to be a vibrant lighthouse of faith.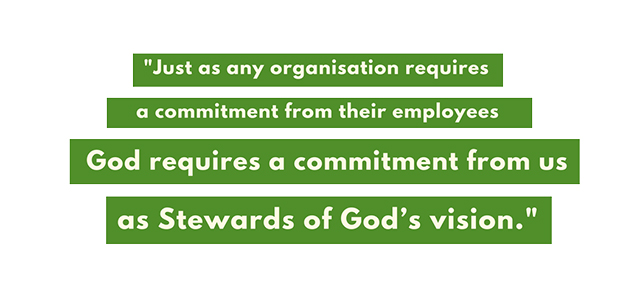 We are all familiar with the concept of stewardship where all that we have is from God and we are to be faithful in both caring for creation and the use of resources entrusted to us. Rethinking stewardship not just as care for the present but also the future vitality of God's witness in the world places a different focus for us.
This focus is more than maintaining the present it is about growing the future. For us to continue to grow the future we need to be that lighthouse in the community that shines brighter than anything else. For this to happen it needs your wholehearted commitment.
Just as any organisation requires a commitment from their employees God requires a commitment from us as stewards of God's vision. I see the essential components as being;
Personal devotion to God.
Gathering with enthusiasm to worship God and continue telling God's story.
Willingly using our time and talents in the fellowship and outreach of the church.
Generosity in sharing and the recomittment of our worldly resources for God's love to reach into this community.
To honour and respect diversity in welcoming others.
Let us rethink stewardship from making the budget balance to being a church that has a vibrant future. We have God's vision that enables hope to transform lives, local communities and the world.  Please rethink how you share your time, talents and tithes as stewards of God's vision.
Rev. Tara Curlewis, Supply Minister at Turramurra Uniting Church. This edited article first appeared in the Turramurra Uniting Church July Newsletter.