Review: The House
Author: Helen Pitt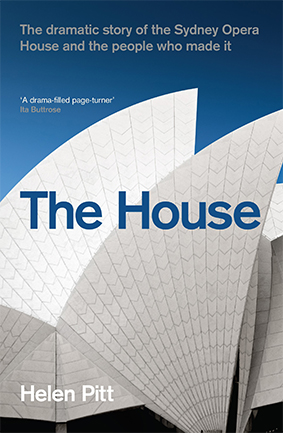 The Sydney Opera House is such a widely recognised building, and such a part of Australian consciousness, that it is easy to forget that it very nearly didn't get built. Like the Great Pyramid, it is an iconic building that was also seemingly cursed. Such a radical but now beloved design took some getting used to, and caused much head-scratching from designers and builders, and angst from public and politicians.
Helen Pitt's book begins with the story of architect Jorn Utzon in his modernist house among the birches in Denmark, learning from a Sydney Morning Herald reporter on the phone that he had won the design competition – appropriately, as it is Utzon's vision that makes the Opera House what it is. But credit also goes to the two contrasting men who collaborated on its beginnings, the flamboyant British conductor of the ABC Orchestra, Eugene Goossens, who was eventually disgraced by a sex scandal, and the down-to-earth Labor premier Joe Cahill, who died unexpectedly in the first year of construction. Although not an opera lover, Cahill saw the importance of a world class venue for all Sydneysiders. Goossens convinced Cahill to shift plans for an international shipping terminal to the west side of Circular Quay, thereby freeing up Bennelong Point and making the Opera House the focal point of the harbour.
Famously, at the culmination of the design competition in 1957, when nothing seemed to stand out and the judges were disappointed at the mundane proposals that focused on internals rather than externals, internationally lauded modernist architect Eero Saarinen pulled Utzon's design from the pile of rejects, exclaiming dramatically, 'Gentlemen, here is your Opera House.' Although less detailed than others, Utzon's visionary, soaring design caught Saarinen's eye.
To say that the choice was controversial is an understatement. Even Frank Lloyd Wright derided it as a 'circus tent'. Other verdicts included 'hideous', a deflated parachute and 'a mess'. But there was also sympathy for Utzon's view that a venue for opera needn't be in an Old World style, even if the parabolic arches that supported the white sails subtly referenced Gothic cathedrals.
Utzon himself epitomised the modern, Scandinavian style, and he and his family were feted when they arrived in Sydney. Utzon learnt his trade when Scandinavians were swapping heavy, traditional designs for elegant, minimalist, modernist housing and furniture. His father was a boat builder, responsible for a lauded, sleek sailboat design, and he advised young Jorn to pay close attention to nature for inspiration. These two influences can be seen in the profile of the Opera House's curving rooflines, which are often compared to sails, shells or gull wings, but can just as easily be seen as upturned boat prows, another maritime allusion in a building that makes the most of its waterfront setting.
The visualisation was elegant but the process of building was torturous. Utzon eventually realised, after stacking scale model parts inside each other, that sections of a sphere cut into triangles could be used repeatedly to make all the shapes of the sails, cutting down on the maths. Even so, the engineers needed to use what was Australia's biggest computer at the time, at the Woomera missile facility in South Australia, to double-check thousands of engineering calculations. The thousands of hours spent on the engineering nearly bankrupted engineer Ove Arup's company, and Arup himself fell ill from the stress.
Famously, the complexity and uniqueness of the building blew the budget out of the water. Utzon denied responsibility and blamed penny-pinching politicians. As the years rolled on and the project's reputation soured, a change to a Liberal government brought a new planning minister, Davis Hughes, who saw himself as a Mr Fix It, and he immediately clashed with Utzon, leading eventually to Utzon's resignation and return to Denmark. Australian architect Peter Hall was brought in to finish the job, but he too seemed to succumb to the curse on the building, suffering from overwork, and in later years even spending some time as a homeless alcoholic. Utzon never visited the completed Opera House, though he was not bitter, taking the long-term view that it would be a fitting tribute to the vision of Sydneysiders, and that one day it would be a proud ruin, like the Mayan temples that had inspired Utzon's design for the Opera House's podium.
Others had more pessimistic, short-term plans. As delays dragged on and on there was talk of knocking the half-completed thing down or leaving it incomplete as a kind of outdoor concert venue. Eventually the interiors were attempted, but opera was relegated to the smaller performance space, making 'Sydney Opera House' something of a misnomer, but the name stuck, despite floated alternatives. To this day the interiors, and especially their acoustics, divide opinion and illustrate the architectural difficulties, especially in a prominent public building, in managing the push and pull of interior and exterior.
But the Opera House's main users are those who view it from outside. The House is a giant sculpture and the internal spaces are secondary considerations, unlike the utilitarian Harbour Bridge but like New York's Guggenheim Museum, which is a terrible building to hang artwork in, as the floors are not level, but which was envisaged by Frank Lloyd Wright as a grand artwork itself. Similarly, the Opera House's contribution to art is not in what it houses, but in what it projects to the world.
Nick Mattiske