Through playing real-life bomb survivor Jeff Bauman in the upcoming story of his ordeal and recovery, Jake Gyllenhaal has found a greater appreciation of life and love, and a strong desire to pass over the superficial for what really matters.
Jake Gyllenhaal's assertion that he has "never wanted to do things that were easy or too comfortable" is quite the understatement. After all, from his breakthrough in the mind-bending, frightening drama Donnie Darko via the bleak thriller Prisoners, pumping up as a boxer for Southpaw and tackling survival desperation in Everest, Gyllenhaal is undoubtedly one of the most intense – and intensely committed – actors of his time.
While many of his contemporaries have specialised in the goofier and more gross-out fare, Gyllenhaal's is a name synonymous with demanding roles. His part in Stronger, the true-life inspirational story of 2013 Boston Marathon bombing survivor Jeff Bauman, is certainly no deviation from that trend. "I've always been anxious to challenge myself as much as possible," says the 36-year-old actor. "For me, life is all about discovery and risk and exploring new aspects of yourself as well as the world in general."
But Stronger is more than just another film to add to Gyllenhaal's impressive CV. With his involvement in the development and production side of the project, he sees his commitment to playing Bauman – who lost both his legs in the bombing while waiting for his girlfriend to cross the finish line – as a duty, to the man who endured a complicated process of recovery and personal discovery and to those who were wounded and lost their lives in the attack.
"Trying to get Jeff's story right was a very emotional journey that I knew, always, I'd never fully get that close to," Gyllenhaal says. "It was this weird sense of, 'You're going to fail no matter what, because you're never going to get to what it really felt like,' but you've got to do it, to tell this story, his story.
"I was really intimidated to meet Jeff. There is no way that any of us could really match the reality of what he and Erin [Bauman's now-estranged wife] and the family went through."
Bauman has stated that he is "immensely proud" of Gyllenhaal's performance. Indeed, the two have become firm friends through their close working relationship. "He's one of the strongest people I know," Gyllenhaal says. "A lot of people have asked me over my career, 'When are you going to play in a superhero movie?' I feel like I finally have. To me, that's how I feel about him. He's a total inspiration to me."
That sense of duty to honour his friend's experience does, however, create a sense of doubt for the actor. "It's the sense that you can never capture the horrific experience that Jeff went through. You will always come away feeling that it's fraudulent to even try to express that," he says. "I wanted to do this for Jeff, even though every step of the way I thought, 'What's he going to feel like, what's he going to think, when he sees this movie for the first time?' It was in my head the whole time."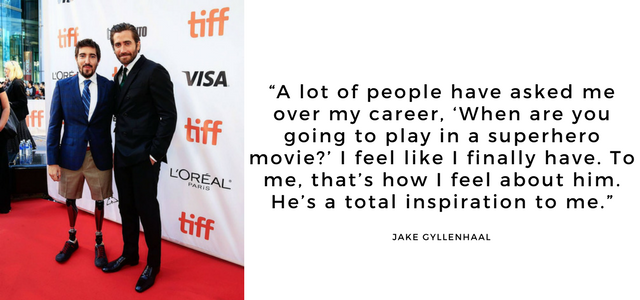 A symbol of human perseverance
While Bauman was hailed a hero – he identified one of the two Kyrgyzstani brothers responsible, and who had also been planning to bomb Times Square in New York – he didn't see himself as one. Gyllenhaal ponders this for a moment, then suggests: "I think Jeff has ultimately grown into the idea of being a symbol for people as well as being an inspiration to others. He helped identify the bomber, which is one important thing, but his overcoming everything else afterwards is what has really made him someone whom we can all admire and draw inspiration from.
"I thought it was important that the movie explore the specifics of the man, who he really was before the event, and then show the pain he went through as honestly and unsentimentally as we could, eventually giving way to the joy and love between Jeff, Erin, and his family. The idea was to describe his experience as honestly as possible."
For an actor who is known for his commitment to physical – and psychological – transformations for his roles, playing Bauman fits right into this frame.
"I love observing people and all the complexities and oddities of human behaviour that inform what I do," Gyllenhaal says. "I enjoy the kind of creative expression that comes with mimicry and I love exploring human psychology, how we interact with each other, and going beneath the surface of human behaviour.
"When I play a character, the most interesting and exciting thing for me is being able to express myself very differently and more intensely than I could ever dream of in my own life. It's also interesting to see yourself actually feeling and behaving the way your character behaves without even being aware of it."
Seeing from the character's perspective
Part of Gyllenhaal's intensity in his craft comes from his spiritual intelligence. He speaks of enjoying mindful meditation; to think deeply, and to try to make sense of things outside his comfort zone. And when it comes to acting – the art of inhabiting someone else – it is the process of learning about them that he finds so fulfilling.
"I learn so much from looking at the world differently when I work on a film and I'm seeing things from the perspective of my characters," he says. "I take my work seriously in ways that people outside the business would never appreciate or find particularly interesting. The thing that really drives me as an actor is my curiosity. I'm far less adventurous in my own life and my work gives me the ability to exceed my normal boundaries and explore things about myself that I wouldn't do otherwise."
His friendship with Bauman, unsurprisingly, has affected Gyllenhaal very deeply. "Every day I feel much more grateful for everything I have in life," he smiles. "On a very basic level, you feel foolish if you complain about little things that are so unimportant and trivial…There's not a moment now where I don't see how absurd it is to dwell on minor things if I compare any of that to the level of pain, especially physical pain that Jeff suffered. You see things very differently.
"It's made me see life as being much more precious than I was ever consciously aware of before. Knowing that life is fragile makes you want to appreciate meaningful things in life and stop wasting time on things that are trivial and superficial."
Stronger is on DVD/ Blu-Ray and Digital from May 16.
Christopher Ritchie