Members of Pitt Town Uniting Church, supported by members from the other Uniting Churches in the Hawkesbury Mission Zone contributed to the Massive Market Day in late June that raised $5,000 for people in West Papua.
The money raised will build two wells in the local West Papua area and make a huge difference to the lives of ordinary people.
Uniting member Christine Offord led the small congregation that brought around 50 stallholders to the lovely grounds of Scots Uniting Church at Pitt Town.  Some of the stalls were organised by the congregation, with the rest coming from the wider community.
Members of Pitt Town and Ebenezer Church cooked dozens of beautiful cakes, while Windsor Uniting Church ran the BBQ.  Pitt Town ran a fruit and veggie stall, a raffle and a white elephant stall.  Members across the Zone helped in other areas that contributed to a magnificent community day of warmth, fun and significant mission and ministry. Even our local Maroota South RFS jumped on board along with Oakville Scout/Venturers who donated the firewood for our fabulous raffle.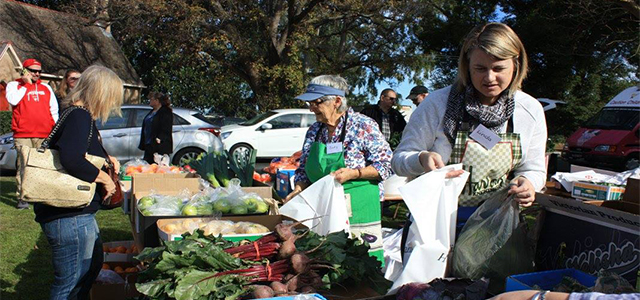 Those who attended enjoyed an entertaining day but most importantly they were also given the opportunity to support a wonderful project in West Papua.  The indigenous people of West Papua are our nearest neighbours and some of the poorest people in the world.  Former Pitt Town UC member Shelley Houghton (sister of current member Rebecca Andrews and one of the drivers of the Market Day) worked with Uniting World in West Papua.
When she had to leave, the people asked for help with the provision of clean water wells for their rural villages.  Shelley and Rebecca, along with daughter Sally, formed the West Papuan Development Company.  They work with a team on the ground in West Papua and together have devised a system for building wells in remote locations with only hand-held equipment.  Clean water in villages has made an incredible difference to the lives of many people.
As people across the Hawkesbury Uniting Churches have heard the stories of the people in West Papua, we have been inspired to work with this wonderful team to raise funds for our nearest neighbours.  Over the last two years the Hawkesbury Zone has worked to help raise around $50,000 together to support this wonderful project.  $32,000 of this was raised under the inspiring leadership of Bill Hilder from Windsor UC to purchase a vehicle and trailer for the team in West Papua.  This will reduce their costs of building wells and allow the team to find other work, train young men and gives them more control over the project.
The Uniting Churches in the Hawkesbury have found incredible passion and enthusiasm for this ministry and are inspired by the leadership of people like Shelley, Rebecca and Sally.  People from across the Zone have given time, money and energy to raise money to build clean water wells.  The people in West Papua are so very gracious and their gratitude for the little we have done in providing them with something we all take for granted, is humbling.
We are constantly amazed at how other people are so generously enthused to contribute to and support our initiatives like the Market Day.  Our next venture is a Jazz Afternoon at the Historic and beautiful Ebenezer Church on October 15.  More information can be found here .
Rev Geoff Stevenson is Team Leader at Hawkesbury Mission Zone.