Cowra Uniting Church already is counting its blessings in 2017. Our Food Hall, which has been going for the past six years, was honoured with the Australia Day Award (Community Group) at the Cowra Australia Day Celebrations. This was very unexpected as we had also been given this award last year.
It is a wonderful tribute to all our valuable volunteers who come each week to help many in our community who may be struggling.
In March, we were blessed again, this time by the Berowra Uniting Church. They brought their Lego Exhibition and Competition to Cowra for the first time. We were able to have a wonderful weekend of fun and fellowship with our own church folk, as well as the community of Cowra.
Berowra has been holding Lego Exhibitions in their church hall for many years. They decided to branch out to the country, and we are so very glad they came to Cowra.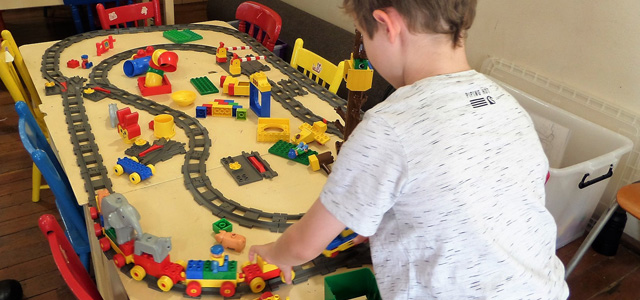 They arrived at lunchtime on Friday 17 March. Immediately, they began setting up their display in our church hall. A number of displays also came from people in the Cowra area, who also love Lego and were very happy to bring their contributions along.
Entries for the competition began arriving at 5pm and there were many excited young people proudly carrying their entries into the hall.
Saturday saw young and old alike, arriving to look at the Lego Exhibition. Many of the mums and dads had trouble getting their youngsters to want to go home.
With funds raised by the Lego Exhibition, our Church community was very happy to support the local Scripture Teacher in the Cowra High School.
On the Sunday, the Rev Ingrid Robertson (from Berowra) assisted in our church service. We all joined together for lunch as well, to have fellowship together and say a big "Thank You".
Cowra feels blessed by having the Berowra Church Community come to be with us and assist us. Their partnership with Cowra continues as Berowra members Richard and Jan Fleming have stayed on in Cowra. Richard is assisting us with the services leading up to Easter.
We have so much to thank God for…
Margaret Pengilly