It's not often your grandmother teaches you Sunday School and your grandfather is the Lay Preacher. But that was Jemima Taylor's (now 16 years old) experience growing up in their local Church in Picton. Yvonne Cooper and her grand daughter Jemima reflect on growing together in faith.
What was it like worshipping in the same place as your family?
Yvonne: We changed churches to where our daughter and son in law attended not long after our first grand daughter was born and it seemed very comfortable and natural to worship with them.  We'd always been close.  Seeing the contribution that our family was making to the congregation confirmed our decision to make the change. Although I hadn't considered teaching Sunday School again after such a long time, when it became obvious there was a need I decided to give it a go.
My daughter encouraged me to take a more relaxed approach to teaching and I discovered it was ok if I didn't know or have all the "accepted" answers, which made me think about how I'd always viewed traditional teaching. It was a joy to see the children's faces each week and their cheery greetings and offers of help to set up for Sunday school etc. My main regret was that I missed out on the messages brought by my daughter and son-in-law in the church service, because I was taking Sunday School!
How has your faith been enriched by seeing your granddaughter Jem grow in faith?
Yvonne: Watching Jem grow in faith has been an amazing process for me. As a young child she accepted Bible stories the way most young children do but it wasn't too long before she, along with some of her friends at Sunday School, started asking the "why" and the "how", not in any cynical or disrespectful way, but with a lovely enquiring curiosity- wanting to understand the meaning of these stories for her life. From a very young age, Jem has had a wonderfully warm sense of justice for all people, of equality and fairness.
There are so many parts of life and faith that are very difficult, and as these children grew older, I found myself saying, "This is what I think – some people would not agree with me, but perhaps this is something you can decide when you are older?" I also asked them what they thought and this stimulated some amazing discussion! It enabled me to feel as if I was being honest but perhaps it helped Jem to understand that it's ok to be unsure and to question.
As Jem grew older and moved into the Youth group, I missed those discussions, yet she continues to grow and explore, and I feel confident that her love for people will not waver.  So my faith has been enriched with a great hope for the future and the knowledge that even at my age, I too can question and grow!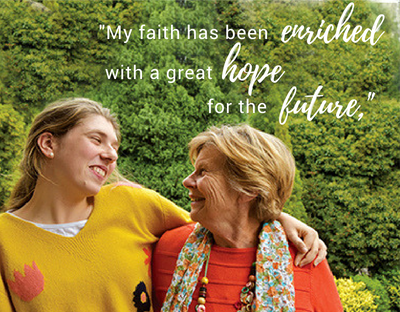 What was it like growing up in a Church where your Grandparents also worshipped?
Jemima: I think I had a pretty unique experience in my church. For me the lines between family and church blurred.
I always looked forward to going to church every week. I went with my best friends and then at the start of the service (after we'd danced to all the hymns) we'd go out to Sunday school with Gran. Pa would often be leading the service or preaching and people later talked about how they appreciated what he said.  As I got older I listened to his sermons and really enjoyed his messages – they made a lot of sense to me.  Even the fact that I saw my grandparents at the very least once a week, mostly about two or three times, it was definitely really special, and I think it's something that lots of kids miss out on.
How has your faith been enriched by seeing your grandparents in action and being taught by your gran in particular?
Jemima: I went to Sunday School every week from the time I could pretty much walk to when I started high school. I don't think people realize how much these years shape us and how we see the world we live in, and so having Gran there every week had a huge impact not only on my faith but on the way I view the world.
It was those cold Sunday mornings all huddled around the tiny heater out the back sitting on cushions where we'd get so off topic and travel all over the world together that probably had the biggest impact for me. She let us ask questions about our faith and this inquisitive eye for life is possibly one of the most valuable skills I will carry with me into the future. Our world is so unpredictable, and if we're taught from a young age to simply do as we are told without questioning then where does that leave us for the rest of our lives?
I don't think Gran knows this, but it was through her actions that she taught us most about love and faith. It was the way she patiently listened while we went on rants or tangents that were very irrelevant, the positive feedback about our unconventional cotton wool sheep and her genuine interest in our lives. We'd watch her welcome new people, come up with new and creative ideas for us and see the effort she put into our little church that showed us what love really meant beyond all the talk.