Media reports this year about abuse in the Northern Territory's Don Dale Youth Detention Centre have brought the juvenile detention system in Australia into the nation's spotlight. Apart from the disturbing issues made public by these reports, there is little in the way of "aftercare" programs for juvenile offenders — to combat the huge rates of young people who re-offend.
On the far north coast of New South Wales, Reverend Peter Boughey of Casino is endeavouring to change that repetitive cycle of young people re-offending.
Rev. Boughey is the chaplain at Grafton's Acmena Juvenile Justice Centre and is founder of the Keeping Our Freedom Youth Indigenous Corporation (KOFY). He recently started the program to help young offenders gain life and work skills. By helping them with such skills, KOFY wants its participants to secure full-time employment. Such a positive outcome can help to halt the cycle of recidivism that is prevalent among young people released from juvenile detention.
The reports on ABC's Four Corners program in July, about the NT's Don Dale Youth Detention Centre, left Rev. Boughey "heartbroken". He is glad that the subsequent Royal Commission has been set in motion, to prevent from happening again the sort of abuse brought to public light on Four Corners. Rev. Boughey added that the "Acmena Juvenile Justice Centre has a lot more checks and balances in place", to monitor the way prisoners are treated.
In April, Rev. Boughey began the KOFY program with the assistance of a grant from Uniting. He started the Pathways to Employment Project after seeing that "something was wrong" in the system. Beginning as chaplain at Acmena in 2005, Rev. Boughey has noticed the recidivism rate among prisoners has been "around 75 per cent."
"It is a national disgrace the way this recidivism of young offenders is not being addressed," he said. "Governments seem to put money into programs they know do not work and into programs that just become a box-ticking exercise."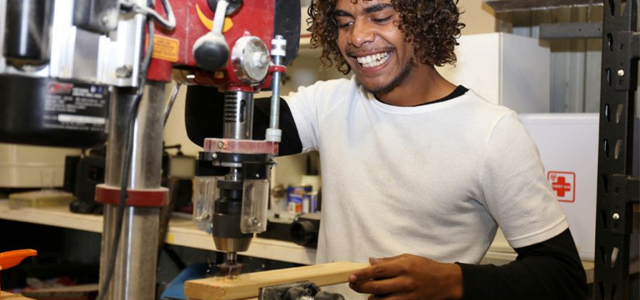 Working for a better future
Over years of working with young offenders, he began developing a program to help end this cycle of imprisonment, which he presented to Juvenile Justice Management. After "road testing" the project — using on his own money — Rev. Boughey was able to secure seed funding for the Keeping Our Freedom Youth Indigenous Corporation.
The program deals with all facets of work employment, and is open to post-release 16 to 20 year olds who have been in a detention centre. Rev. Boughey would also like to implement a second stage, to engage with other "at risk youth" in the community.
KOFY has established a small workshop manufactures wooden craft toys, produce garden furniture, Aboriginal art pieces and souvenirs. KOFY intends to expand sales of products, as well as seek to develop income streams such as contract work from other industries.]
In the workshop, participants develop on-the-job discipline, practical skills and they start their work history. Rev. Boughey encourages those in the KOFY program to "dream big" and, then, to "make those dreams happen".
The program also teaches participants how to work to a timetable, understand directions, and stay employable. It also provides them with mentoring throughout the process. All young people entering the course are paid up to 20 hours per week (at industry award rates) and will be given the opportunity to undertake further courses. Indigenous young people in the Northern Rivers region have been the main target group of KOFY, but that group will not be its exclusive focus.
The skills participants acquire through KOFY help them to set up a day-to-day routine; paying them a wage builds their confidence to pursue future work. All this is designed to give participants a healthy outlook and "work ethic", which they take into the workforce. KOFY has early commitments from a number of local employers to employ participants in various roles. Participants will be placed with employers appropriate to their skill set and employment aspirations.
He is convinced that what KOFY offers is a thoughtful pathway to making a better life for former inmates. As a chaplain, he sees his role as getting beside young offenders and giving them the tools to function effectively on the outside.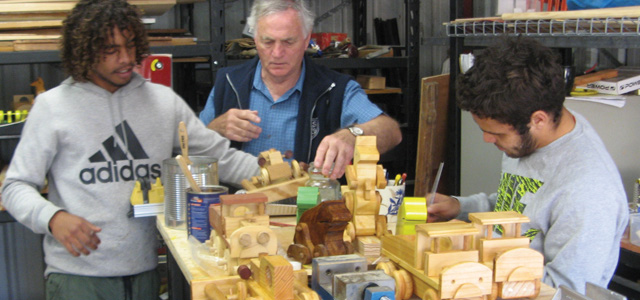 Commitment to making changes
Rev. Boughey is passionate about identifying participants who could benefit from the program. This selection process begins inside Acmena, through relationship building and sharing faith stories of those people who have made positive changes in their lives.
"I run a chapel program in Acmena where I talk to them about changing their lives. Occasionally I can get people in to give their testimonies," says Rev. Boughey of the programs he runs in Acmena.
Also inside Acmena, Rev. Boughey gets some inmates to begin making toys (which are donated to underprivileged kids). He does this to give them experience with working and volunteering, and to possibly pave the way for joining KOFY when their sentence is done.
"It's mainly about them wanting to change and committing to it," said Rev. Boughey. "I give them all the tools and you see the guys who want to make a change."
"There is a percentage of the boys that want to do something with their lives and this gives them something to do and helps them see a future."
So many young offenders re-offend because they go back into family situations that are dysfunctional and don't support them to make positive life choices.
"I'm not looking at it through rose-coloured glasses because we are going to have failures, but just because they fail once, doesn't mean I will give up on them."
"The boys have their whole lives ahead of them and there's too many people that want to put them on the scrap heap."
Dr. Jonathan Foye is a freelance journalist and academic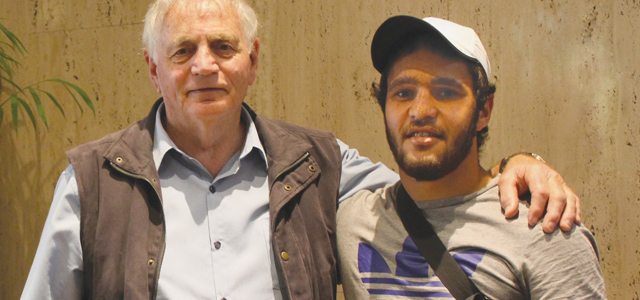 Help needed
KOFY needs financial support in order to operate. With limited seed funding – and the long process of applying for government grants – the project needs donations. One area that the project needs supported is to employ a part-time supervisor of the workshop. This will release Rev. Peter Boughey to pursue other income streams and contract work for participants.
Participants are picked up in the morning to start work and they are taken home in the afternoon. This helps them adapt to the idea of working to a routine. "At the moment, I and others pick them up and take them home in private vehicles," said Rev. Boughey. "We need a small minibus that volunteers can use for transport for the boys. It can also be used for transporting products to markets and other outlets."
The project will also need to rent a suitable location for its workshop. Rev. Boughey currently uses a shed behind his house to save money. "There are some ideal workshop sites in the commercial part of town that have big potential in size and marketing," he said. The rent for a suitable site is $150 to $250 per week.
Rev. Boughey told Insights that, if given the opportunity, the project can make a positive impact. "I have the Government data and have identified through my road testing of the KOFY program that if we can keep just 10 young men out of detention centres for just one year, we can save the [state] government $5.8 million," he estimates. "The positive impact of these young men's changed behaviour on their families and communities is incalculable."
How to donate
To assist with this life-changing program, please contact Rev. Boughey directly on pjboughey@optusnet.com.au