UNHCR Special Envoy Angelina Jolie has spent 2018 travelling across the globe and been witness to the wholesale injustice in war torn areas and the unprecedented humanitarian displacement crises across the globe. Unfortunately these crises rarely make news in Australia.
After years of service to UNHCR and the cause of refugees, Angelina Jolie was appointed Special Envoy in April 2012. In her expanded role, Jolie focuses on major crises that result in mass population displacements, undertaking advocacy and representing UNHCR and the High Commissioner at the diplomatic level. She also engages with decision-makers on global displacement issues. Through this work, she has helped contribute to the vital process of finding solutions for people forced to flee their homes.
The UNHCR Special Envoy has travelled from Jordan's Za'atari refugee camp, the largest refugee settlement in the Middle East and home to more than 80,000 Syrians in January, to West Mosul in Iraq a city held captive by ISIS for three years in June, and most recently in October she has witnessed first-hand, the humanitarian displacement crisis in Peru.
Syria's senseless war
Almost seven years since the start of the conflict, more than 6 million people remain displaced inside Syria and a further 5.48 million have fled to other countries in the region, creating the biggest refugee crisis since the end of the second world war.
On her fifth visit to Jordan since the beginning of the crisis, Ms. Jolie visited refugee families living in Za'atari camp, the largest refugee settlement in the Middle East and home to more than 80,000 Syrians.
"We should never forget that the war began with demands by Syrians for greater human rights," she told a news conference at the camp. "Peace in their country has to be built on that."
"It cannot be built on impunity for the targeting of civilians by all sides of the conflict, the bombing of schools and hospitals, barrel bombs, torture, chemical weapons and rape used as a weapon of war," she added.
"Please provide the leadership and strength needed to negotiate a principled end to this senseless war."
"So that is my message to the international community today: yes, of course, please do more to help meet the needs of desperate Syrian families and the countries hosting them. But above all please provide the leadership and strength needed to negotiate a principled end to this senseless war – without sacrificing the dignity and human rights of Syrian families. That is non-negotiable."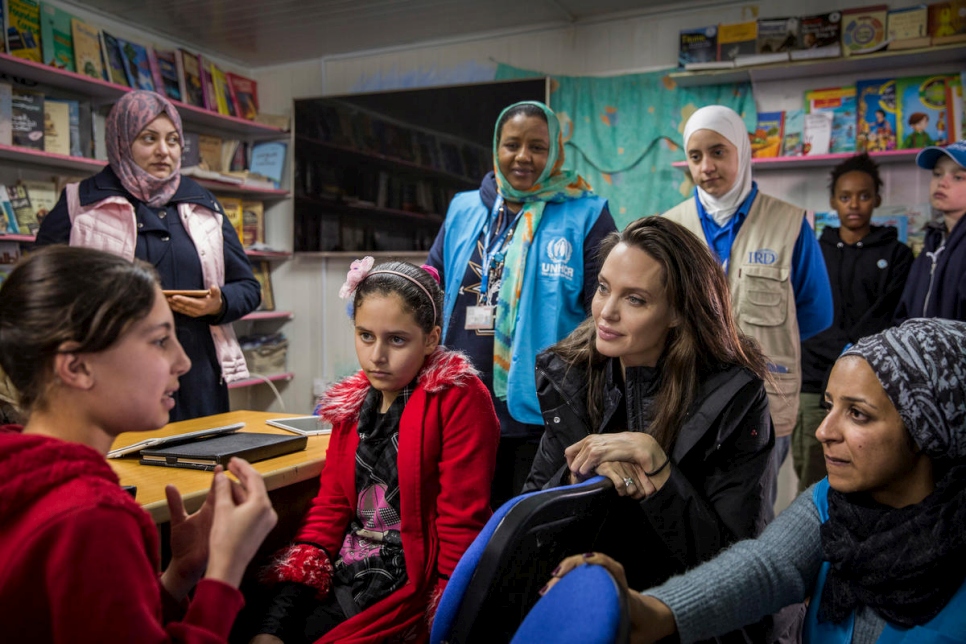 West Mosul rebuilding from the ruins
From Jordan in January, the Special Envoy travelled to West Mosul in Iraq in June.
In West Mosul Jolie walked among the bombed-out buildings that line the narrow streets of the Old City and met displaced families to discuss efforts to rebuild the city and the needs of the returning population.
"This is the worst devastation I have seen in all my years with UNHCR."
—@Refugees Special Envoy Angelina Jolie met displaced families in West Mosul as they return to the city after its liberation from ISIS https://t.co/Nggr4seQ3E pic.twitter.com/7pvUTubRI1

— United Nations (@UN) June 18, 2018
West Mosul was held captive by ISIS for three years. The combat operation to re-take the city was the largest and longest urban battle since World War II, and the wreckage reminiscent of Dresden. Civilians faced aerial bombardment, artillery barrage, cross-fire, snipers, and unexploded ordnance. Hundreds of thousands of people were subjected to siege-like conditions, used as human shields or targeted as they fled the city. Large swathes of West Mosul were flattened. Many residents are now slowly returning, to scenes of complete destruction. Like residents of other former ISIS strongholds, they have suffered nearly unprecedented levels of psychological trauma.
"This is the worst devastation I have seen in all my years working with UNHCR. People here have lost everything: their homes are destroyed. They are destitute. They have no medicine for their children, and many have no running water or basic services. They are still surrounded by bodies in the rubble. After the unimaginable trauma of the occupation, they are now trying to rebuild their homes, often with little or no assistance," said Jolie Speaking in front of the ruins of al-Nuri Mosque.
"We often tend to assume, as an international community, that when the fighting is over, the work is done. But the conditions I observed here in West Mosul are appalling. Displacement is still happening. The camps near the city are still full. Whole areas of West Mosul remain flattened. Enabling people to return and stabilizing the city is essential for the future stability of Iraq and the region."
Peru – unprecedented displacement
In October Jolie carried out an official visit to Peru. Peru is one of the countries most affected by the surge in Venezuelan refugees and migrants – the largest movement of people in Latin America's recent history.
Following up on the UN High Commissioner for Refugees' recent visit to the region, Jolie undertook a three-day mission to assess the humanitarian needs of Venezuelan refugees and the challenges facing Peru as a host country, and to discuss the possible regional responses to the crisis.
During her mission, the Special Envoy met with refugees, representatives of the Government of Peru and organizations contributing to the humanitarian response. She visited programs providing protection and assistance to asylum-seekers, refugees and host families, and observed Peru's generous response to Venezuelan refugees and migrants.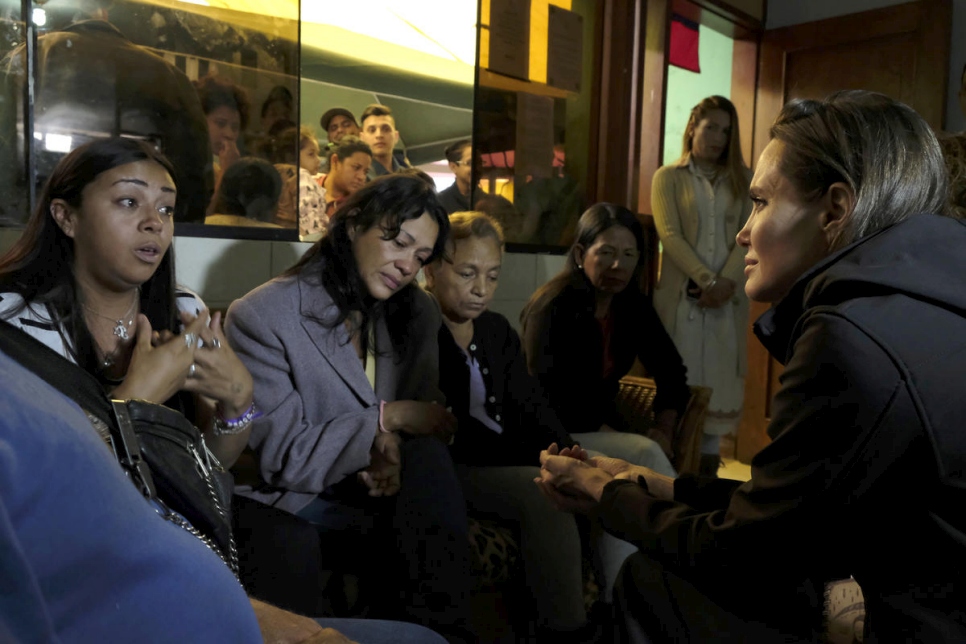 UNHCR Special Envoy Angelina Jolie listens to Venezuelan women at the Albergue Sin Fronteras shelter in Lima, Peru.   © UNHCR/Santiago Escobar-Jaramillo
While addressing a press conference Lima, Peru on 23 October she said:
"This region is facing one of the largest mass migrations in its history. The crisis is all the more shocking for being predictable and preventable.
"Every Venezuelan I met described the situation in their country as desperate. I heard stories of people dying because of a lack of medical care and medicine: cancer patients whose chemotherapy was abruptly stopped, diabetes sufferers without access to insulin, children without basic antibiotics, people starving, and tragic accounts of violence and persecution.
"The number of people displaced worldwide continues to increase, it now stands at 68.5 million people. One person is forcibly displaced every two seconds as a result of conflict or persecution.
"There is justified public concern about this unprecedented movement of people across borders internationally. And a perception that the distinction between refugees and economic migrants, enshrined in international law, is being blurred.
"Are we guilty of performing a form of collective moral triage, selectively choosing when and where we will defend human rights, for how long and to what degree?
"Injustice and suffering of this magnitude is impossible to quantify. For the people who survived these experiences to have been left on their own and largely forgotten feels utterly wrong and profoundly disquieting. The gap between what they deserve and how quickly the world has forgotten them is shocking."
Main photo caption: UNHCR Special Envoy Angelina Jolie meets with Tahsin (right) and his family in West Mosul, Iraq. His 17-year-old sister was killed by a mortar that destroyed most of the family's home. With them are his parents, Mohamed and Hoda, and two surviving siblings.  © UNHCR/Andrew McConnell
For more information about the work of the UNHCR Special Envoy visit the website.
Adrian Drayton