The 1977 inauguration of the Uniting Church in Australia was captured most vividly by snapshot illustrations drawn by renowned artist Tom Thompson. But they almost did not see the light of day…
In 2009, the Synod Archives heard Tom Thompson was selling works from his personal collection, including a sketchbook gallery of the birth of the Uniting Church in Australia. Incredibly, this was the first time the Archives — and everybody else — had heard about the illustrations, 32 years after Tom drew them.
"What's interesting about these sketches is that they provide a different view of a historical moment," says Rev. Dr Rod Pattenden who, with artist and conservator Stephen Coburn, seized the opportunity to preserve this unique slice of the church's history.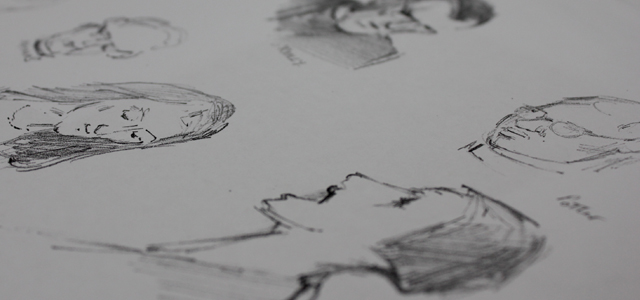 The pair had 16 of the drawings framed, sponsored by limited funds from the Camden Theological Library Trust Fund and generous donations. A ceremony was held at the Centre for Ministry in North Parramatta, which Tom attended.
"A photograph just takes a flat record of a moment in time, whereas an artist is using their eye to hone in on a detail to amplify a particular person or moment," said Rev. Dr Pattenden, Adamstown Uniting minister and an accomplished artist.
Tom's father was a Presbyterian minister and his artist son tagged along with him to the 1977 inauguration. The result: A seeming silent film of sketches of that momentous day, from people spilling out the Town Hall station to the sombre signing ceremony.
Today, the display of illustrations hangs in the Camden Theological Library. Rev. Dr Pattenden describes the illustrations as vibrant, energetic on-the-spot sketches.
Taking a look at the most significant moment of Uniting Church in Australia history scrawled magnificently across pages is inspiring. Tom's eye for detail breathes life into the images, especially the profiles of key figures. And that's why these artworks are so unique, according to one of the men who helped preserve them.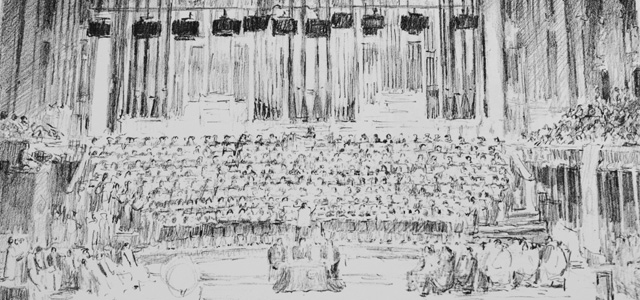 "[The illustrations] capture what it's like for him to be there. He clearly recognised it was a historical moment that was worth recording; that is expressed in the vigour and the delight of the line," says Rev Dr. Pattenden.
Serving during World War II at Bougainville as a tank gunner at just 17 years old, Tom Thompson returned to Australia and developed into a celebrated artist. He has murals in the Parramatta City Council offices and works displayed at Sydney Airport and Australia House in London. Tom was also the former Head of the National Art School, Sydney.
You can view Tom's 1977 Inauguration illustrations at Camden Theological Library, North Parramatta.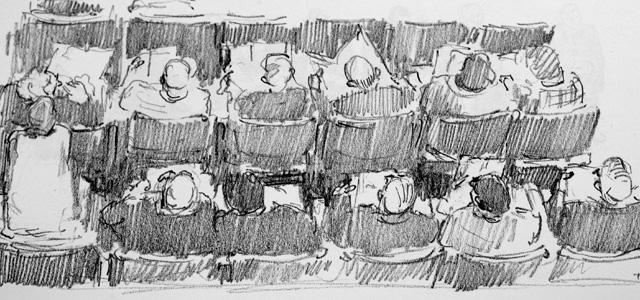 Melissa Stewart